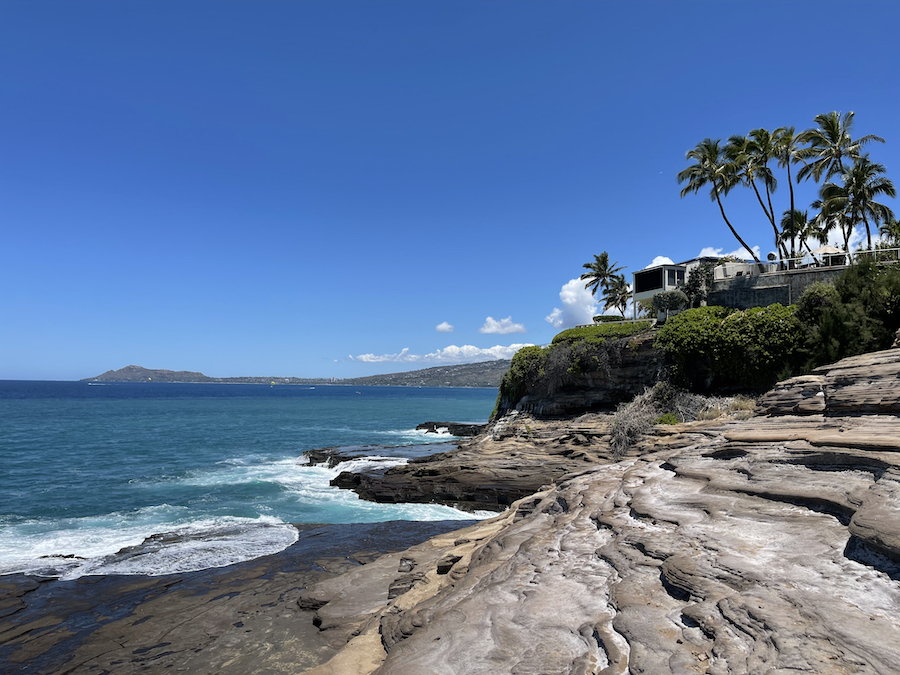 Looking for an easy, but scenic hike many tourists do not know about?
Spitting Cave Oahu -known as China Walls- is a picturesque lookout spot with turquoise waters and cascading lava rock formations. I came upon it whilst researching dog-friendly hikes in Hawaii.
Save money on your trip and get the Go Oahu: All Inclusive Pass –  1-7 day discount book with 34 attractions
Spitting Cave is named such because water thrashes and shoots up through the cave, sometimes as much as up to 20 feet. Unfortunately, there is no stunning Hawaii beach to relax on or gentle ocean pool to swim in, but the site is quite worthwhile and I've seen sunbathers laying out when I went. The lava rock  lends to the dramatic splendor of Southeastern Oahu's unique geological features.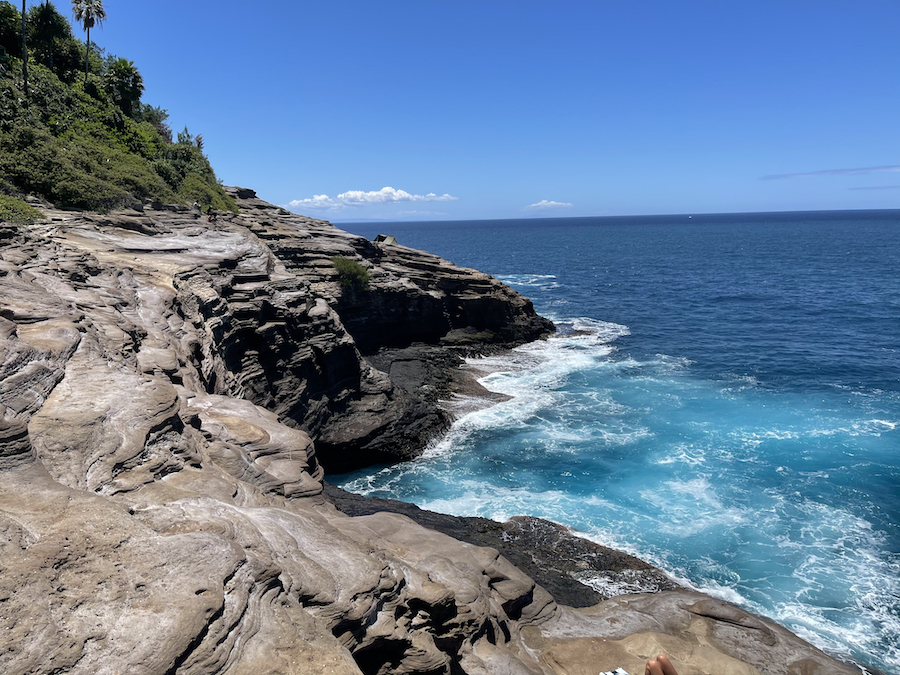 Hiking to Spitting Cave Oahu
It's a 0.2 mile hike which will cost you five minutes from the residential street. The steep rugged hill walk getting to the viewpoint might feel like a mini hike.  Once there, any extra hiking is to explore the rock formations .
Spitting Cave Cliff-Jumping in Oahu
Some say Spitting Cave is a cliff jumping spot.  Jumping from high up is dangerous and is not advised. During high tide, there have been deaths, as the water's undertow pulls unsuspecting adventure seekers into the cave.
Save money on your trip and get the Go Oahu: All Inclusive Pass –  1-7 day discount book with 34 attractions
How to Get to Spitting Cave
Getting to Spitting Cave via bus is possible if you don't mind walking a good 45 minutes. You can get off at the Hanauma Bay bus stop and walk to Lumahai Street.
Getting to Spitting Cave is easy by car. It hides tucked into an access alley near the end of the quiet residential neighborhood of 7 Lumahai Street in Portlock. Park on the street . Look for an alley with a119A access sign marker, which points down a narrow but steep hill. After a rain, the trail is be slippery and muddy.  It is the most challenging part of the hike. Not to fear, a terrier and daschound made it up and down on their own.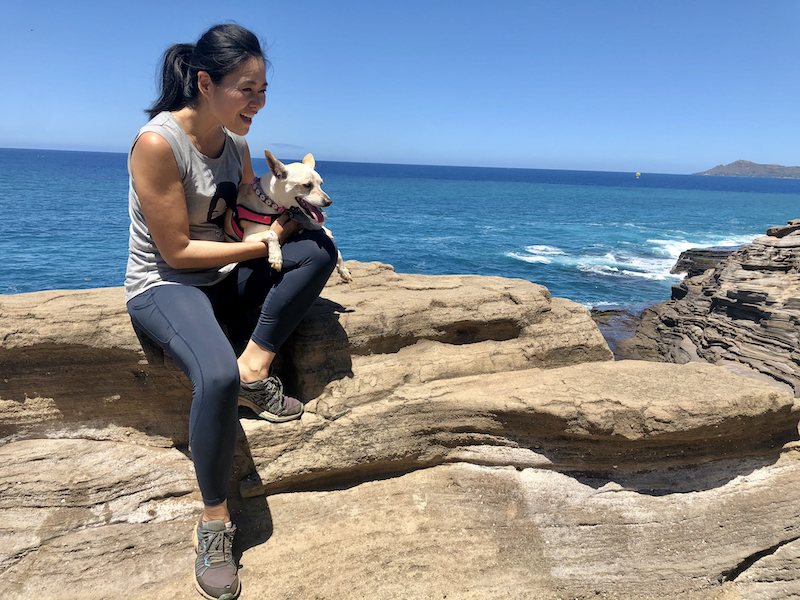 Where to Stay in Hawaii
Ko'olina
Ihilani Four Seasons Resorts Luxury resort, favorite Hawaii film location
Disney Aulani Resort. Family friendly and fun Disney resort located in Kapolei. 30 complementary activities from tubing fun, snorkeling, movie night, cultural entertainment. A memorable stay for the entire family.
Waikiki
Beach Waikiki Boutique Hostel, Budget. Great location near beach, shared kitchen, family rooms available. Great place for solo travelers to make friends.
Moana Surfrider, Landmark hotel with beach front view. A feeling of old Hawaii history and Duke Kahanamoku days. Afternoon tea on the terrace. Houses a small museum. My favorite hotel.
Kahuku / North Shore
Turtle Bay Resort – Beautiful beaches, ocean bungalows, escape to the North Shore in this resort getaway. Popular Hawaii film location.