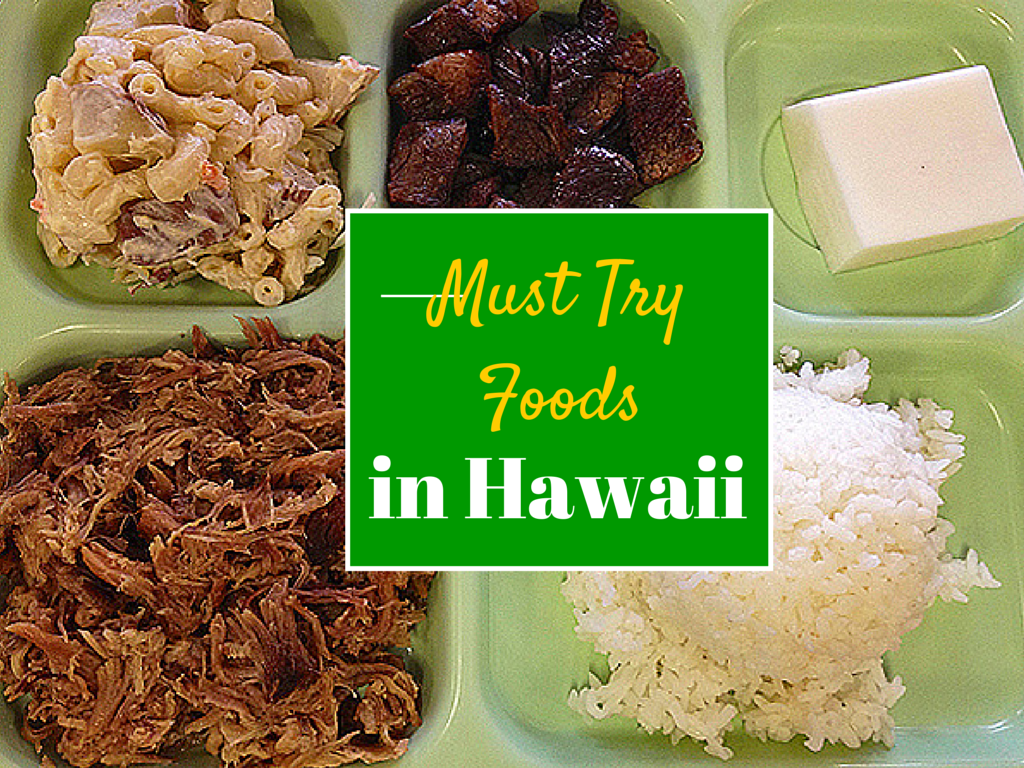 As a Pan-Pacific location, blending Asian and Polynesian ways, Hawaii  has carved out a Hawaii food culture of its own. From seafood, ethnic variety and home-grown comfort snacks, these famous Hawaiian foods to try will broke da mouth!
12 Famous Hawaiian Foods to Try
1. Plate Lunch
A spin off of bento boxes, the standard Hawaii plate lunch consists of a main dish (like pork chops, chicken katsu, beef stew, etc…) served with two scoops rice and macaroni salad. This is the traditional combo as locals loved their macaroni salad and rice.  Plate lunches are the everyman fast food, but traditionally cooked (vs microwave) meal. Served as a takeaway, locals whisk them off to work or to one of Hawaii's beaches for a beach picnic lunch.
Location: Rainbow Drive-Inn on Kapahulu ( a famous Hawaii landmark). For larger menu selections:  Zippys Restaurant, L & L Drive Inn, Grace's Drive Inn.
2. Shave Ice
Shave Ice isn't uncommon to Asia, but Hawaii seems to step up to own it.  It consists of ice shaved into a paper cup cone with syrup poured over it.  Over the years it's been modified and these days, you can order it with azuki beans, vanilla ice cream, mochi balls, etc.  Each vendor has their own style. Some shops sell snow cones with finely shaved ice which melts upon touching your tongue, giving you a light impression of flavor. Other vendors have chunkier ice shavings and the cone can taste a tad more watery with syrup falling off the ice bits.  The ideal version is a medium ice shaving which has enough body to retain the flavor of the syrup as you chew on the ice.
Shave ice was once sold at mom and pop stores or on the side of the road. These days, there's less places that sell them, but you can still find them around. Cost: $3-6
Popular landmarks: Haleiwa: Matsumotos Shave Ice;  Honolulu: Waiola Shave Ice
🤙🏾 Save money on your trip and get the Go Oahu: All Inclusive Pass –  1-7 day discount book with 34 attractions
 3. Poke
Hawaii's favorite appetizer is poke. Poke is one of the top foods of Hawaii.   The original poke is raw fish, seasoned with Hawaiian sea salt, soy sauce, limu (a type of seaweed). The poke variety is extensive with Pan-Asian flavors. Locals eat them anywhere – beach picnics, family potlucks, parties or at pau hana time (aka after work hours).
For vegetarian diets, there is an incredible tofu poke sold at certain grocery stores. It's flavored with seaweed, soy sauce and sesame seeds. Biting into it,its the best mock poke I've had!
Where to Find it: Tamashiro's Market, Fresh Catch,  the fish section of many major grocery stores.
4. Spam Musubi
Hawaii's love affair with Spam blossomed due to World War II because it was the only food that did not require refrigeration. Meanwhile,  Musubi is a triangular-shaped rice, wrapped with a strip of dried seaweed and it is a comfort food of the culture, thanks to the Hawaii's large Japanese culture. Put the two together and you have the birth of spam musubi. Today, spam musubi is a popular comfort food.  Spam musubi comes in a variety of flavors from katsu, teriyaki, with egg and plain.  Cost: $2-4
Where to Find it: Spam musubis are fairly ubiquitous in Hawaii and sold at all 7-11;s, ABC stores, Zippys, mom and pop stores, lunch wagons and even some grocery stores.
5. Malasadas
Malasadas are the Hawaii's local doughnut. They're deep friend dough rolled in sugar and thrown in a bag to carry home.  Once a favorite breakfast  snack, they were sold from malasada trucks.
You can still find occasional malasada trucks around the island or just go to Hawaii's famous Leonard's Bakery, where you are likely to see a line wrapping outside the store. They sell malasadas with various fillings from coconut, custard, haupia, li hing, guava and plain.
Where to Find it: Leonards Bakery on Kapahulu
🤙🏾Tip: Visit Leonards Bakery and a garlic shrimp truck in Haleiwa on a Oahu Sights & Bites tour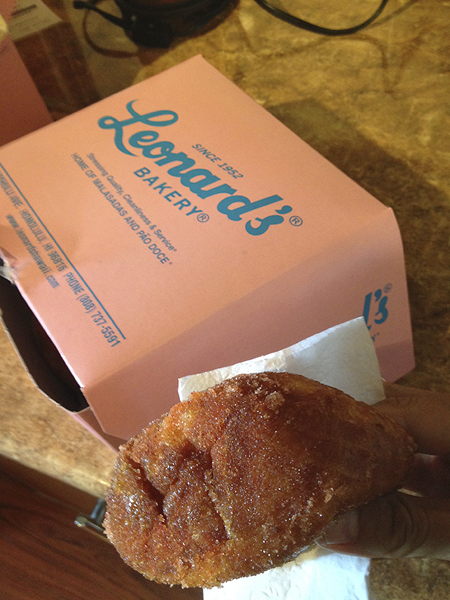 6. Steamed or Baked Manapua
You'll find steamed and baked bao in various Chinatowns around the world. In Hawaii, it's called a manapua, a soft, spongey and slightly sweet bread filled with anything from custard, red bean, char siu (red pork), chicken… you name it.  They are fairly filling lunch snack. Cost: $2-$3
Chan Wah Kam or Patty's Chinese Kitchen offer a selection. But my favorite hole-in-the-wall mom-n-pop manapua shop is Aiea Manapua & Snacks. There is no sitting room and the manapuas are smaller, but the bread slightly sweetened and they have special fillings like lup cheong, kahlua pig, spicy sausage, turkey melt, vegetarian, shoyu chicken. They can even freeze it for you for travel! Get there early or order ahead; they sell out quickly.
Where to buy it:  local bakeries, 7-Eleven.
7. Huli huli chicken
Huli huli chicken is smoked baby chicken is roasted and turned over (aka huli ) a grill in a parking lot.  The chicken meat is tender and smoked and the charring from the grill adds a wonderful salty and crusty flavor. Onolicious!
Where to find it: Miguel's Flippin Ono Chicken, Mike's Huli Chicken,  At a church or school parking lot or side of the road. You'll notice it by it's rotisserie of several small chickens.
8. Loco Moco  (Crazy egg)
Bowl of rice with a Hamburger patty and egg sunny-side up. With gravy and soy sauce.  It oozes of goodness.
Where to Find it: L & L Drive Inn, some local food cafes and restaurants.
9. Hawaiian Plate
The Hawaiian Plate is the traditional Hawaiian food of the Hawaiian Islands. They are most commonly served at luaus and Hawaiian parties. There are many versions of the Hawaiian Plate but the main players are: lau lau, kahlua pig, poi, lomi lomi salmon, haupia.
Where to Find it: L & L Drive Inn, Highway Inn, Helenas
10. Kalua Pig
Although you'll find this in a Hawaiian plate as a staple, this deserves a listing of its own kalua pig is known as pulled pork. But the flavor has to do the way it is slow cooked in an imu (roasted underground). The cooking lasts a good part of the day, but the meat is tender, smoked with a unique and heavenly flavor.
Where to find it: Sam Choy's restaurant, Kono's Northshore, Helenas,  Highway Inn. Grocery stores like Times Supermarket or Safeway.
11. Saimin
Did you know that back in the day, all the McDonalds restaurants in Hawaii had saimin on their menu? Asians love their noodles and Hawaii isn't any different. Saimin (aka ramen) is a bowl of noodles steeped in a slightly salty broth and it is yum! The noodles are best served a little chewy and spongy and it absorbs the flavor of the broth. Often, it's garnished with some green onions, char siu pork and kamabuko (or fish cake), making it both light, but filling. Cost: $4-8
Where to Find it: Shiros Saimin Haven, Zippy's Restaurant, 7 Eleven stores, Mc Donalds, Anna Millers  and any local restaurant.
12. Garlic shrimp
The Hawaii Food truck scene has grown in Hawaii.  One of the notoriously favorite food truck dishes is garlic shrimp. Located on the North Shore, a handful of food trucks sell various types of recipes for garlic shrimp from kimchi flavored to original. Giovannis shrimp truck was the original garlic shrimp truck with jumbo shrimp sauteed with large chunks of garlic and butter.
🤙🏾 Tip: Make your way around the entire island and stop at all the top viewpoints from Hanauma Bay, Halona Blowhole, Haleiwa and more with the Circle Island Experience
Where to Stay in Hawaii
Ko'olina
Ihilani Four Seasons Resorts Luxury resort, favorite Hawaii film location
Disney Aulani Resort. Family friendly and fun Disney resort located in Kapolei. 30 complementary activities from tubing fun, snorkeling, movie night, cultural entertainment. A memorable stay for the entire family.
Waikiki
Beach Waikiki Boutique Hostel, Budget. Great location near beach, shared kitchen, family rooms available. Great place for solo travelers to make friends.
Moana Surfrider, Landmark hotel with beach front view. A feeling of old Hawaii history and Duke Kahanamoku days. Afternoon tea on the terrace. Houses a small museum. My favorite hotel.
Kahuku / North Shore
Turtle Bay Resort – Beautiful beaches, ocean bungalows, escape to the North Shore in this resort getaway. Popular Hawaii film location.
What do you think of Hawaii food culture? What would you add to this list of famous Hawaiian foods to try?