Exploring Kaena Point Hike, Hawaii Oahu
What is at the very west end of Oahu? I never thought about it.
Locals know Westside Oahu as being can be rural, rugged, arid and occasionally a little rough around the edges. It's one of those parts of Oahu that you don't want to leave valuables in your car or look at someone in the wrong way. But it can store some of the most prized beaches and gems of Hawaii.
Ka'ena Point Hike is at the furthest western tip of Oahu.  It is a 3.5 mile coastal hike so you'll see dramatic black lava rocks holding strong against the turquoise blue waters.  That is the image you'll hold onto as you gaze down the shoreline into the distance while thinking you're glad you came. Expect half a day or longer if you plan to rest or explore the tidepools or bird sanctuary at the tip.
Ka'ena Point State Park is a public park and is a legal Hawaii hiking trail on Oahu.
🤙🏾Save money on your trip and get the Go Oahu: All Inclusive Pass –  1-7 day discount book with 34 attractions
Ka'ena Point is sacred to Hawaiians
Historically, Ka'ena Point is a sacred area where the souls of ancient Hawaiians would jump off and meet the souls of their ancestors. Thus, respect must be given to the land while you are on it.
I don't know if it was literally an ancient burial ground or hei'au (sacred place of burial), but Hawaiians treat it with upmost respect, so please, do not litter, desecrate or urinate on this land.
 It is not one of those popular Hawaii hikes that is talked about. It is damn hot and dry with no shade, but easily of the most beautiful places in Oahu's West side.
🤙🏾Tip: Be sure to bring a hat and lather yourself with reef-friendly sunscreen!
There are two trailheads you can enter through as the hike literally loops around the western tip of Oahu, south (Waianae) to north (Mokuleia).    I entered this Hawaii hiking trail from the Waianae side. 
There is no shade or bathrooms on this hike. Relieve yourself before going on the hike.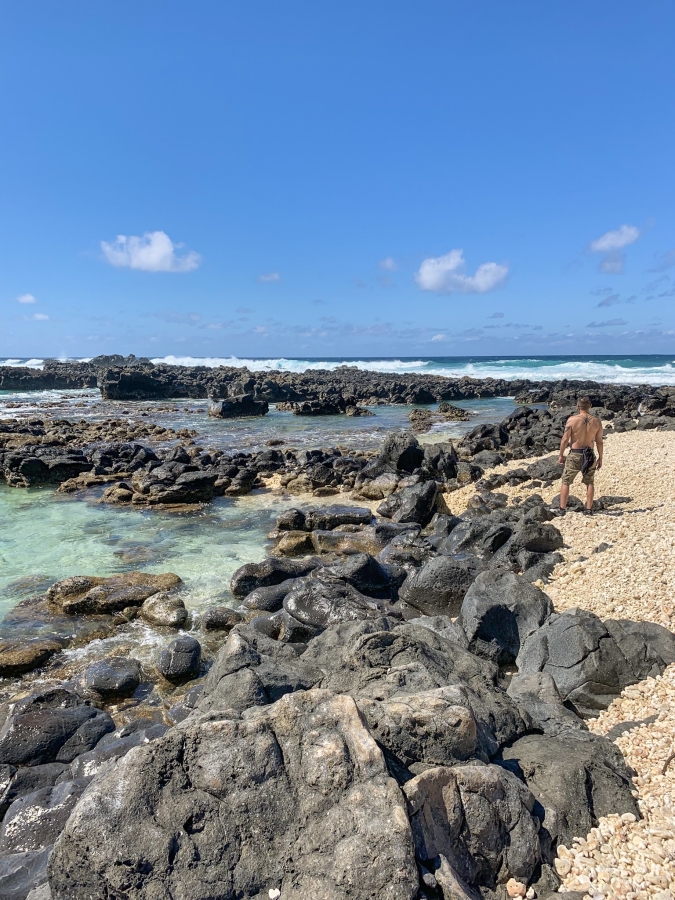 Ka'ena Point Bird Sanctuary
At the very tip is Ka'ena Point Bird Sanctuary. It is a federally protected sanctuary housing the nesting Laysan Albatross, wedge-tailed Shearwater , White-tailed Tropicbird  and more birds and mammals seeking refuge in this remote part of the island. Oahu actually has over 100 bird species, but these are protected.
Part of the Ka'ena Restoration Project was to build a gated fence around this area to keep mongoose, rodents and wild animals out, so that birds can live and nest.
Please be respectful and responsible and do not feed the birds or toss your trash here; as the birds can eat it and get sick or die.
Reaching the ocean's shore you'll find a lot of lava rock pools which make for great tide pooling. If you are lucky you might spot a dolphine or a monk seal, basking in the sun.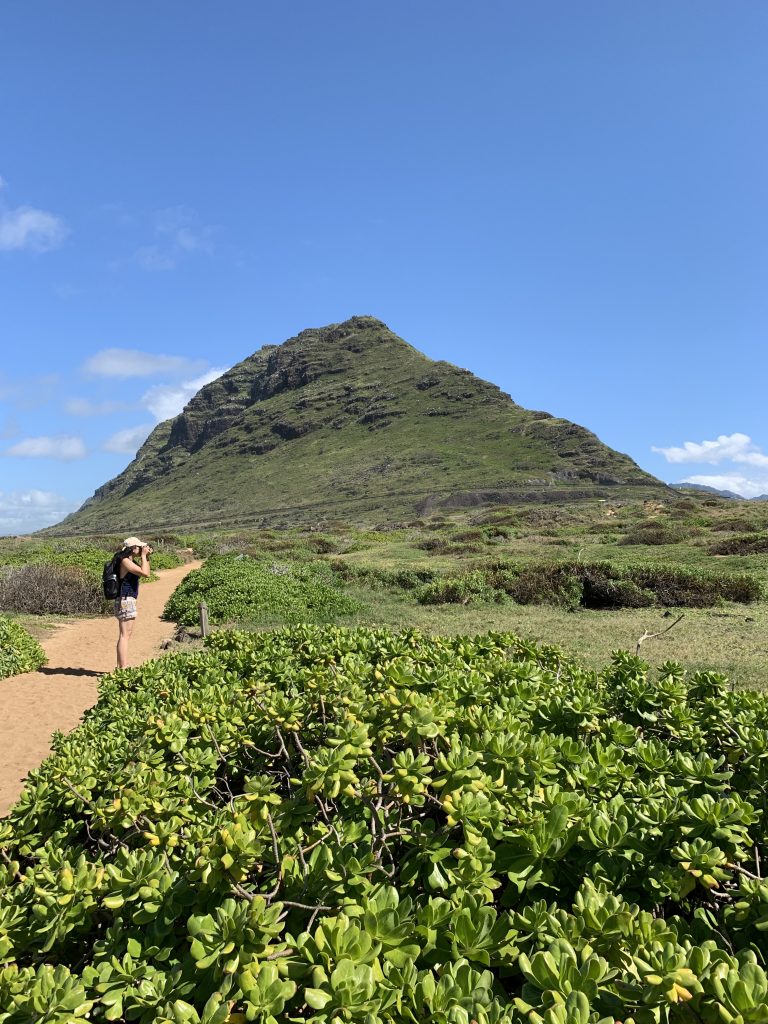 Things to Avoid
Most folks do not swim here. The tumultuous waves and sharp lava rocks make it too dangerous. If you want a beach, there is one before you enter the trail.
Do not harass the sanctuary birds. They are protected and there to nest. There is a fine for harming or harassing these birds.
Avoid leaving valuables in the car. Ka'ena Point State Park is remote but Waianae is known to have car break-ins.
Do not harass any sea mammals. The locals are protective of them. There are fines for animal cruelty in Hawaii.  You do not need a selfie or TikTok video; I promise .
Beware of dangerous shore break and strong currents.
This trail hike is not dog-friendly. 
How to Get to Ka'ena Point, Hawaii
There are two trail entrances- Waianae (south) and Mokuleia (north).
 Mokuleia side: Drive towards Haleiwa town by rather than actually go there, take Farrington Highway towards Ka'ena Point and to the end of the road. You will pass Makaleha Beach Park (on your right – they filmed the opening scene of Lost here) and Dillingham Airfield (on the left).
Waianae side: Take Farrington Highway toward Waianae all the way to the end until you the Ka'ena Point State Park sign. You will drive until you can go no further. Park in the beach parking lot.
For latest updates on the status of the park, see here.
Hiking Essentials for Hanauma Bay Hike
If you enjoy this, Pin it to Pinterest and share!