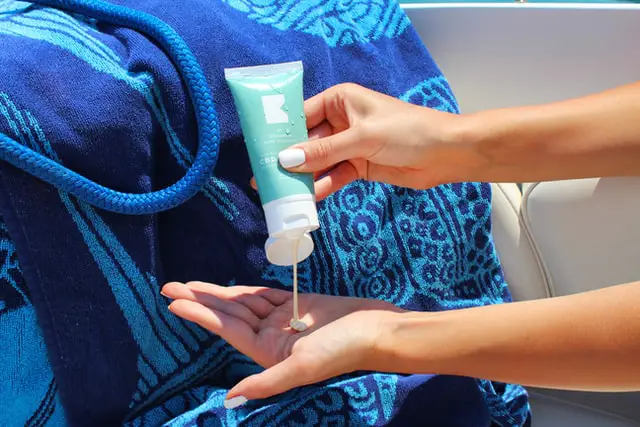 Careful before you slather that sunscreen on… Did you know there are types of sunscreen which are banned in Hawaii? I'm sharing the 10 best sunscreen for Hawaii in this reef safe sunscreen Hawaii guide.
What sunscreens are banned in Hawaii?
Reports found that Hanauma Bay got an average of 2,600 daily visitors. It is estimated that a daily average of 412 pounds of sunscreen (aka 50 gallons) is deposited into Hanauma Bay. Aside from the global coral bleaching that hit the Australia's Great Barrier Reef,  in 2017, Hawaii, Guam, American Samoa had its worst documentation of global coral bleaching and heat stress.
To protect the coral reef (and its algae and marine life inhabitants), Hawaii enacted a Hawaii Sunscreen Ban in January 2021 stating:
"Sunscreens containing two harmful petrochemicals, avobenzone and octocrylene, would be banned from sale in Hawai'i under a bill passed today by the Hawai'i Senate. This bill follows a 2018 law banning oxybenzone and octinoxate sunscreens." – BiologicalDiversity.org
Is Reef Safe sunscreen required in Hawaii?
Yes. Any sunscreen with harmful ingredients will be banned from sales in the Hawaiian islands.
This does not prevent tourists from packing harmful sunscreens of their own, but if you knew your sunscreen endangered coral and marine life, would you want to use it?
By buying and using reef safe sunscreen you will not contribute to the damage of coral reefs, which are home and feeding grounds to marine life and Hawaii's endangered species. By helping do your part, it reduces the overall damage to the ecosystem.
What sunscreen ingredients should you avoid?
  Check ingredients of your sunscreen:
Oxybenzone, octinoxate, avobenzone and octocrylene are on the banned list of sunscreen ingredients in Hawaii.
Oxybenzone and octinoxate cause coral bleaching, which can stress, damage and ultimately kill coral.
Avobenzone and octocrylene are the chemicals you may still see in sunscreens and often are together. They still damage and cause toxic stress to coral ; and increases the risks of skin cancer and premature aging. These are
The Sad Truth about "Reef-Safe" Sunscreen
You cannot trust "Reef Safe" or "Reef Friendly" sunscreen labels!
These days, there are many "Reef Safe Sunscreen" labels on the store shelves. These are 100% marketing ploys to get you to buy them.  Sunscreen manufacturers aren't required to test whether their product will actually harm coral reefs.  Some advertise vegan, organic, natural or "oxybenzone /octinate free" yet still contain harmful Hawaii banned ingredients.
I made this mistake when I bought a Hawaiian Tropic Antioxidant+ Sunscreen lotion because the Reef Safe sticker was in big bold color below it. Total scam!
Here are lying examples creeping the shelves:
Sun  Bum Reef Safe SPF 50 Vegan Sunscreen (Do not trust the bum!  Contains avobenzone and octocrylene )
Alba Botanica Hawaiian Sunscreen SPF 50 ( Sold in stores and Costco, but not pono Hawaii!  Contains avobenzone, octocrylene, homosalate)
Hawaiian Tropic Antioxidant+ Sunscreen lotion

( not reef-safe- contains avobenzone and octocrylene)

Hawaiian Tropic Island Sport
Read  The Truth about Reef-Safe Sunscreen
Tips for Buying Real Reef-Safe Sunscreen
1.  Read the ingredient labels and shop online.
When shopping online, you can read ingredients better. Amazon -for instance- shows ingredients in its product listings. Check out my approved sunscreen list below, then check the ingredient labels! (I told you its easy)
Remember: Oxybenzone, octinoxate, avobenzone and octocrylene are dangerous bastards!
2. Avoid sunscreen altogether; instead wear Sun Protection Apparel such as long sleeve shirts and hats.
As with sun protective apparel for hiking in Hawaii, a UPF of 30 to 49 offers very good protection, while UPF 50+ rates as excellent. Dark or bright colors absorbs UV rays keeping them from penetrating through to your skin, which is why you'll notice swim shirts are not light colors. Lighter shades offer less protection from UV rays. Choose long sleeve and pants. Coolibar, Columbia Sportswear, Solbari
3. Avoid chemical and spray sunscreens; Opt for mineral sunscreens instead
The chemical sunscreens go on easy like lotion and they typically contain more harmful stuff, for both you and the ocean. They can hold a loose definition of "Reef Safe".
Mineral sunscreens that are "non-nanotized" zinc oxide or titanium dioxide are better for you and acquatic life.  Zinc goes on thick and needs to be rubbed in, but it is better overall.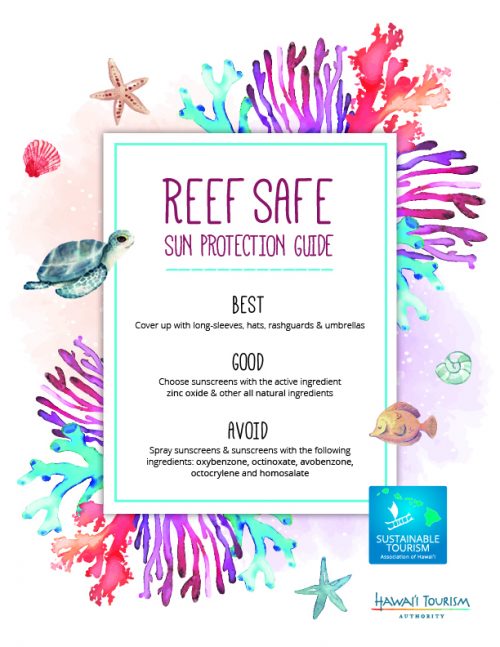 10 Best Sunscreen for Hawaii
Here's the Best Reef-Safe Sunscreens to Buy for Hawaii
Hawaii Made Reef Safe Sunscreens
Hawaii approved reef safe sunscreen
Where can I buy reef safe sunscreen in Hawaii?
Due to the ban, the island is still transitioning over getting dangerous sunscreen off the shelves. But many harmful sunscreens still exist and will advertise themselves as "Reef Safe". Please take the time to read the back label before you buy.