Oahu Hawaii Travel Guide
This Oahu Hawaii travel guide breaks down everything you need to know about Hawaii to easily plan your perfect Hawaii getaway.
Hawaii Facts
In the Hawaiian Islands, it is illegal to touch, harass, capture and/or endanger a Hawaii monk seal and Hawaiian Green Sea Turtle. To do so is a federal and state crime and you wil be fined up to $50,000 and receive jail time up to five years.
Hawaii sells only reef-safe sunscreen in stores. All other sunscreen types are not allows in the Hawaiian Islands.

We have three main freeways in

Hawaii, the H1, H2, and H3.
Daylight Savings is not used
In Hawaii, we do not use north, south, east, west directions as much as we use mauka (towards the mountain) and makai (towards the ocean). This is largely because the Koolau Mountain range passes through the island, halving it, so locals experience mountain and ocean anywhere they are.
Diamond Head crater offers one of the best views of Waikiki and downtown Honolulu.
Aloha means Welcome, Love, Goodbye and Mahalo means Thank you
The Hawaiian alphabet consists of 7 consonants and 5 vowels. You will see many vowels in names.
In Hawaii, you will go farther with smiles than you will complaints and sarcasm. Hawaii culture adopts influences from Asia, where the culture is taught to be polite and respectful of others.
Gas in Hawaii is around $3-$4/gallon.
Kualoa Ranch has the most film locations on the island.
Best time to visit Hawaii
Oahu Hawaii is pleasant year round with an average of 84 degrees Farenheit. Ocean waters are a 72 degrees in the winter and 80 degrees in the summer. A wet suit is not necessary for swimming, unless you will be diving for an extended time.
Hawaii's record low 52 degrees/high 95 degrees. The hottest the Hawaiian Islands has gotten is 100 degrees on Mauna Kea on the Big Island of Hawaii.
Oahu Hawaii does do not experience many seasons as other parts of the world do. We have hot, hotter and rainy.
June to August tend to be the hottest months. December is our winter and is the rainiest month. We tend to have passing showers and one part of the island might experience rain, while another is dry.
Bucketlist Festivals in Hawaii:
January
New Year's Eve – island-wide fireworks
April
Merrie Monarch (website  Hilo, Big Island of Hawaii)
Waikiki Spam Jam Festival
May
Memorial Day Lantern Floating Hawaii (website)
June
King Kamehameha Day (June 11)
Kamehameha Floral Parade  (June 11)
Bon Dance Season & Festivals (June – Mid Sept)
August
Made in Hawaii Festival (website)
Hawaii Travel Restrictions
Check the latest Hawaii travel restrictions update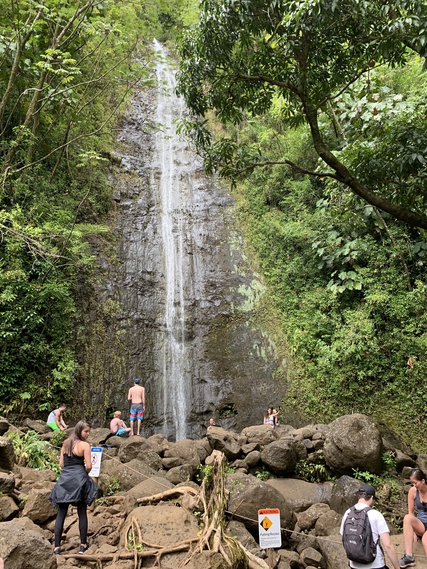 Oahu: Best Getaway Feature
Oahu Hawaii is for the traveler who wants a little bit of everything. It offers much diversity in sightseeing attractions, nature, nightlife, urban and country culture. It is townie, country and it has its pockets of rural.
Honolulu is the major city and is abuzz with urban living. Step over to the other side of the mountain and you'll find a relaxed, country and beach lifestyle.
West Oahu is the arid side, housing a rural and rough edge but some of the best beaches. Do not leave valuables in your car.
Where to stay in Hawaii
The following areas are easy homebase spots, where you'll find the best travel lodgings and easy access to popular tourist areas.  Oahu has three main areas :
Waikiki : Central to Oahu, an abundance of beaches, hotels, shopping, nightlife, restaurants and tourist amenities.  You can also book day tours and activities. You might rent a scooter to get around to nearby locations of Diamond Head, Kahala Beach, Ala Moana Shopping Center and Downtown Honolulu.   Getting Around: Does not require a car; very pedestrian friendly. Take the bus, tourist shuttles, scooter rentals, Biki bikes or rent a car.
North Shore :  North Shore is the area of world famous surf and is for the traveler looking for the ultimate getaway. There are beaches for camping, snorkeling and surfing.  Explore between Haleiwa and Laie towns. If you come during surf contest season you might catch a contest at Banzai Pipeline, Sunset Beach,  Haleiwa or Waimea Bay.  Food truck culture exists here. Limited lodgings in North Shore. Best options are Turtle Bay Resort, hostels and Airbnb.  Getting Around:  Car required.
Ko'olina : West Oahu, a little more remote but with the Disney Aulani, Four Seasons and Wet n Wild Hawaii, it is known for its family friendly and ocean front luxury resorts, beaches and golf courses.  Stay here if you want to enjoy  family or golf vacation in peace and quiet. The resort area has a small shopping mall with restaurants, boutiques and a country grocery store.  The town of Kapolei is nearby with much more in Walmart, shopping, fast food and restaurants options. This is also closer to Waikele Shopping Outlet.  Getting Around:  Car required. Taking the bus is possible but it may have limited options.
Getting Around Hawaii
How to get around Hawaii, Oahu depends on the type of vacation and exploration freedom you like. Some travelers plan Hawaii vacations around Waikiki, to lounge on the beach and shop. They opt to explore on foot, Biki bike or by renting a moped. Others want freedom to explore the island to maximize their trip and rent a car.
Renting a car: I recommend all visiting friends and tourists to rent a discounted car for a day at the very least. I guarantee you'll wish you did, so you can explore the island and its secret spots fully.
Driving in Hawaii is not difficult with a GPS or Google Maps. There is one road which takes you around the entire island in a day.   Discount Hawaii Car Rental offers discounts on car rentals and they have some of the cheapest prices I've seen!
Lyft Rideshare is available on Oahu and the most popular rideshare.
Renting a Moped in the Hawaiian Islands is a fun and popular way to zip around. There are rentals on all the islands. They are never to be driven on freeways.  You will need a driver's license to drive a moped. Or a Class 1 license, which is specifically for mopeds. Out of state licenses are allowed but you must be at least 18 years. While it is not illegal to ride without a helmet, one is highly recommended. Crashes happen. 
🤙🏾Tip: Get Travel Insurance with World Nomads or SafetyWing. Read more here.
Biki Bike is available in Honolulu and Waikiki. You can rent a bike for $4 per 30 minutes and then drop it off at any Biki location around town.
The Bus costs $2.75 one way or $5.50 for a day if you have a HOLO Card. There is a circle route bus that goes around the island (the entire trip takes around 5 hours). Buses run about every 30 minutes. Bus stops are marked with a bench and yellow The Bus sign with bus numbers at that stop.
Popular spots to take The Bus:
Pearl Harbor
Chinatown/Historic Honolulu
Waikiki Beach
Hanauma Bay
Kailua Beach
Diamond Head
Ala Moana
Polynesian Cultural CenterFor more routes visit the official The Bus website
Byodo-In Temple