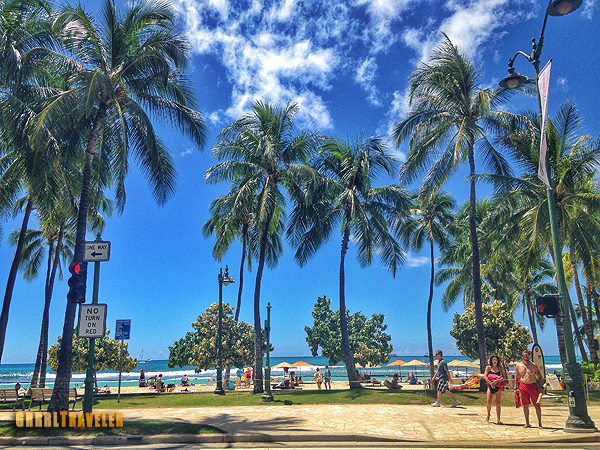 As a well-known icon of Hawaii, Waikiki Beach attracts over 4 million visitors a year to its sands. To answer the question of which are the best beaches in Waikiki is not easy.
When I worked in Waikiki, I continually met tourists whose entire trip itinerary revolved around their sun-worshipping stay in Waikiki. Many travelers were okay with just beach-hopping and that is completely fine. From Hilton Hawaiian Village to Kapiolani Park, you will experience several smaller beaches in the 4.8 mile grand stretch of "Waikiki Beach" and your experience will not always be the same.
6 Best Beaches in Waikiki for Relaxing
1. Royal Hawaiian Beach
Royal Hawaiian Beach is the centrally located in the heart of Waikiki Beach. It spans the Moana Surfrider to the pink Royal Hawaiian Hotel. You can board sunset catamarans (aka "the booze cruise"), catch occasional outrigger canoe regattas, to hear live music streaming from Duke's Restaurant. At night, it's a lovely beach to walk as it's lightly lit, so you feel safe.
2. Kaimana Beach / Sans Souci
One of the best Waikiki beaches is Kaimana Beach which is also known as Sans Souci (French for "without care"). It's a small beach with a relaxing local vibe, soft sand and gentle waters for swimming. Tides here never get rough or high.  Located at the end of Waikiki Beach across from Kapiolani Park, next to the Waikiki Aquarium, the beach feels secluded and is great for sunsets and yoga chilling.
The beach has outdoor showers and restrooms in the old swim stadium directly next door. There's a lovely grassy park area great for family picnicking.
The New Otani Kaimana Beach Hotel is right on the beach.
Save money on your trip and get the Go Oahu: All Inclusive Pass –  1-7 day discount book with 34 attractions
3. Duke Kahanamoku Beach
a was a great waterman and the grandfather of surf. He was an Olympic freestyle swimmer and the original Waikiki Beach Boys who enjoyed teaching tourists how to surf and canoe. Today, Duke Kahanamoku Beach is a popular beach which is great for swimming, surf lessons and catching a tan. Waves tend to be mild and its an overall pleasant beach marked by the outstretched arms of the Duke Kahanamoku statue and policed by the Waikiki Police Station. You'll find Duke Kahanamoku surf contests held here. A stone's throw from this beach is the Duke's Restaurant where you can listen to live music .
Tip: Take a romantic Sunset Catamaran Cruise and see Waikiki from the ocean.
4. Queens Beach
Located on the edge of Waikiki and across of Honolulu Zoo, sits Queens Beach. It is not the loveliest beach in Waikiki, but it houses occasional events such as beach volleyball and annual Hawaii Five O's premiere "Sunset on the Beach". They have surf board rentals and there is also a stone pier where kids like to jump from and you can get a lovely view of Waikiki Beach. It has a great location adjacent to Kapiolani Park (which occasionally has weekend cultural festivals) and next to Waikiki Aquarium.  Queen's Beach also has a park of its own where you can hang out and take rest from the heat.
5. Kuhio Beach
Kuhio Beach is a family-friendly beach, is lovely,  but often crowded. One of the best Waikiki beaches, this  beach has a stone wall that keeps breaking waves out. The beach is like a large pond and quite mellow for swimming. It is ideal for young kids and it is the only beach with a concession stand. You will definitely smell a lot of coconut suntan oil here. Unfortunately, there are always  homeless making a bed on the grass in the shade or in the chess pavilion. They are usually harmless; just ignore them.
6. Fort DeRussy Beach Park
Between the Hale Koa Hotel and the Army Museum, sits Fort DeRussy Beach Park. This area in general can house military travelers. The beach is quite large and there are nets set up for beach volleyball events. Parking: Fort DeRussy Garage across the street.
Waikiki Beach Tips for Hawaii
✔︎  You can spot Hawaiian green sea turtles. Note: Look but don't touch. It is federal and state crime to touch or harass a Hawaiian green seat turtle. Hawaiian green sea turtles are an endangered species. Penalty is a $1500 fine and jail.
✔︎  Reef booties and floaties are optional.
✔︎  Parking can be hard to find if you are not staying in Waikiki.
✔︎  Always read the signs. We have warning signs such as high tides, strong currents and man-o-war warnings.
✔︎  Always swim where you see a lifeguard.
✔︎ Only Reef Safe Sunscreen is allowed and sold in Hawaii. It was mandated in an effort to protect Hawaii's coral reefs.
✔︎ Get a Waterproof Mobile Phone Pouch.
Where to Stay in Waikiki
Luxury
Moana Surfrider, Landmark hotel with beach front. A feeling of old Hawaii history and Duke Kahanamoku days. Afternoon tea on the terrace. Houses a small museum. My favorite hotel.
Hilton Hawaiian Village. Luxury. Large resort with luxury rooms, a private lagoon and a free Friday fireworks. The man-made lagoon is an easy and safe experience for children and is next to the beach.
Royal Hawaiian Hotel. Landmark hotel and private beachfront. Located in the heart of Waikiki, it is the only pink hotel on the island.  The hotel has an old Hawaii vibe, while the pool areas reek of modern luxury. It sits adjoining the Royal Hawaiian Shopping Mall and is 5 minutes from the International Marketplace.
Midrange
Kaimana Beach Hotel – Access to Kaimana Beach and short walk to Kuhio Beach, Queens Beach, Waikiki Aquarium and Honolulu Zoo.
Budget
Beach Waikiki Boutique Hostel, Budget. Great location near beach, shared kitchen, family rooms available. Great place for solo travelers to make friends.
Waikiki Beachside Hostel. Budget. Great location, walk to Waikiki Surf beach. Dorm rooms as low as $35/night.
What would you recommend as the Best Beaches in Waikiki?