Hanauma Bay Hike
Hanauma Bay is a prime snorkeling spot surrounded by crater and filled with deep aqua blue waters.  But just adjacent to the famous bay is Hanauma Bay Hike (aka Hanauma Bay Ridge Hike or Koko Head Rim Trail.. yes, there's a few names!).
How long is Hanauma Bay Hike?
Hanauma Bay Hike is a 1.5 mile arid circular trail with lovely views of the bay, Koko Head Rim, exotic plants and an impressive terrain which makes you feel like you're in a different part of the world.
This Hawaii hike is an illegal hike because the property is owned by the government, you are trespassing and can get fined. There have also been several deaths getting to Rock Bridge, making hikers aware of the dangers. Still many Hawaii hikers and workout fanatics innocently hit this trail, because it is a great trail for incline running, many locals are not there to get into mischief and is a relatively short distance for a worthwhile pay-off.
This site does not condone illegal hikes, but I am sharing my experience, knowing that people will be discerning of their personal choices and safety.
How long does it take to hike Hanauma Bay Ridge Trail?
Hanauma Bay Ridge Trail is a moderate trail. Hiking the full rim takes around 1 -2 hours depending upon your level of fitness and dexterity. Fit runners might jog it in less time. The only potential challenge are the two steep slopes. One can present an easy or tricky descent while the other can offer a slightly "feel the burn" vertical incline.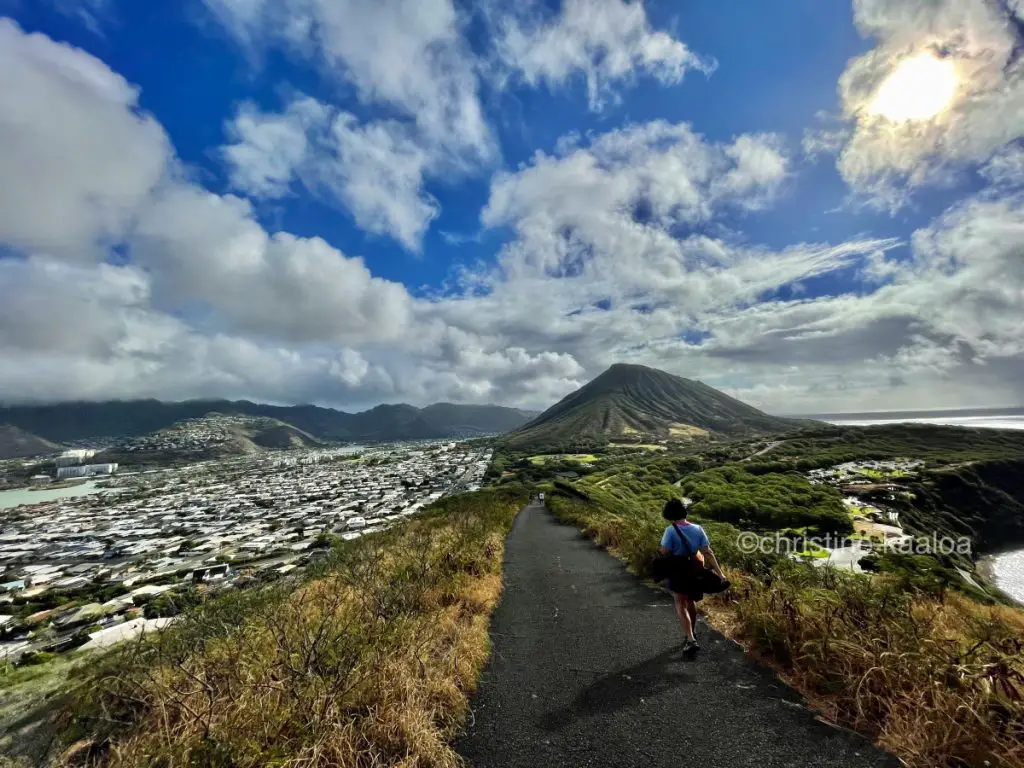 The entire trail to the first peak is paved. You can enter this paved road from Hanauma Bay parking lot or you can come in from the dirt trail below the park.  The view of Hawaii Kai (left) to Koko Head Stairs (center) to Hanauma Bay (right) was priceless.
Which route direction is the best?
The easy trail route would've been to follow the paved road to the top -near the electrical tower -and descend from that side, where the incline is smoother (sorry, I don't have photos of that slop). However I think we were a little lazy, that paved road kept going higher and we thought the view might be better to take the other direction first.
Tip- You will see all sides of the rim on this trail so there is no better view… only a semi-easier hike. Follow the path to the top.
Instead, we descended down the rugged trail that I recommend you come up vs go down.
We took a turn off the paved path and took the rugged trail down and footing is tricky as it is steep and rocky. If you go this way, my recommendation is to step on the roughened rock for more traction as your shoe will cling to it better. Avoid stepping on the tiny loosened rocks as they can make you slide. It's best to walk at an angle or zig zag.  Hiking poles, a walking stick or umbrella certainly help you.
Walking up this rugged path is significantly easier than going down because gravity will always be against you.
This was not a great idea for one of the gals in our group, who happened to be afraid of heights. My sister advised her to walk close to the ground and slide down on her bum on areas where she was too afraid of.
🤙🏾Save money on your trip and get the Go Oahu: All Inclusive Pass –  1-7 day discount book with 34 attractions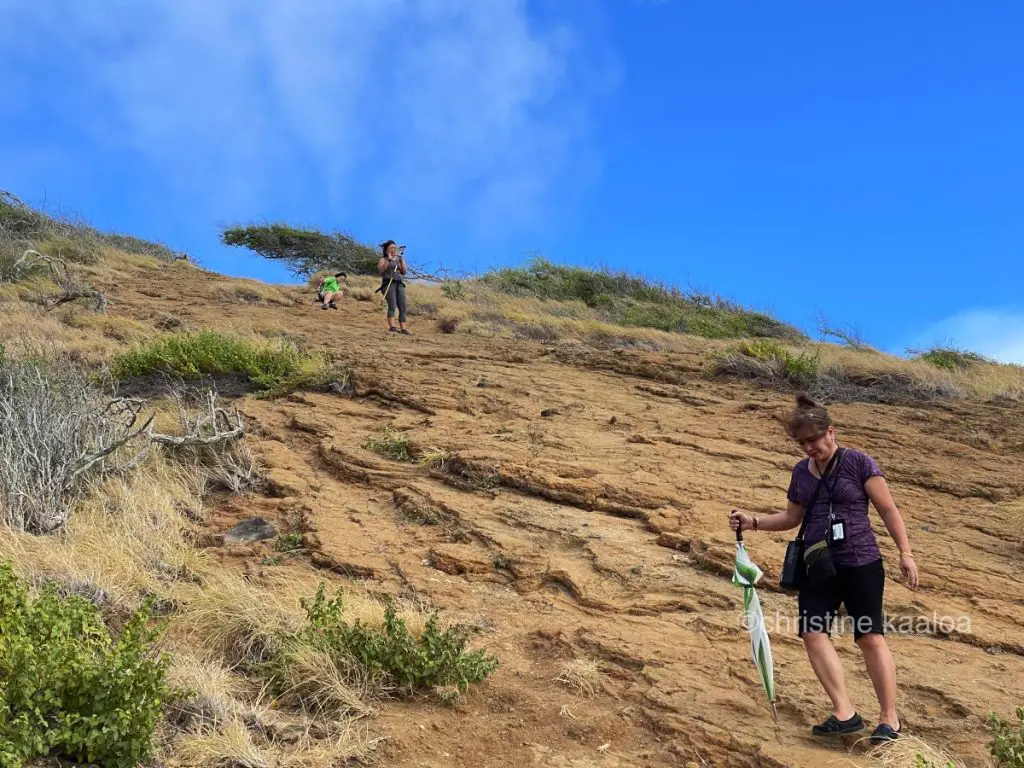 Getting to the base of that rugged trail you are greeted by this heavenly view of Hanauma Bay and the Southeastern Koko Rim of Oahu.
Beware of the strong winds
The hike – particularly the Hanauma Bay side- can get strong winds. Even my sports cap kept flapping off.
It's best to stay away from the ledges as the winds might push your footing. It's also best to avoid trying to get close to the ocean as the waves can sweep you under.
Read Reasons to Drive the Southeastern road of Oahu
Tip: This was an excellent spot to take some selfie photos!
Read Tips on How to Take Selfies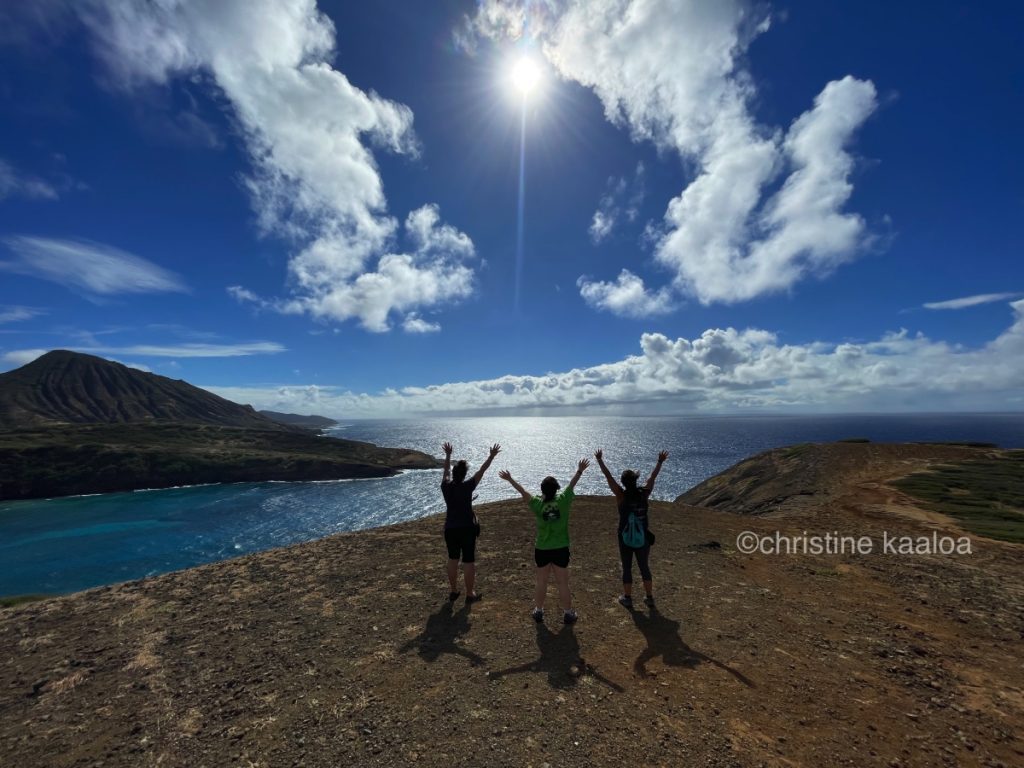 Take your camera
The Hanauma Bay Hike sports unusual terrain. From lava ridges cascading into the ocean, a Koko Head view, and unusual rock formations, you'll find a bit more to snap than your average hike.
In the middle of the circular trail you'll find this lovely wasteland of deadish looking trees brushed in white lichen. The trees look as though they've sustained a brushfire and are now thriving, creating their own secret jungle. It is like another world and Hawaii surprises again by successfully looking like many places other than just island!
I was fortunate to stumble upon this wild flower growing near the ocean cliffside. In fact, I think there are many, evidenced by the dessert pods that grew nearby.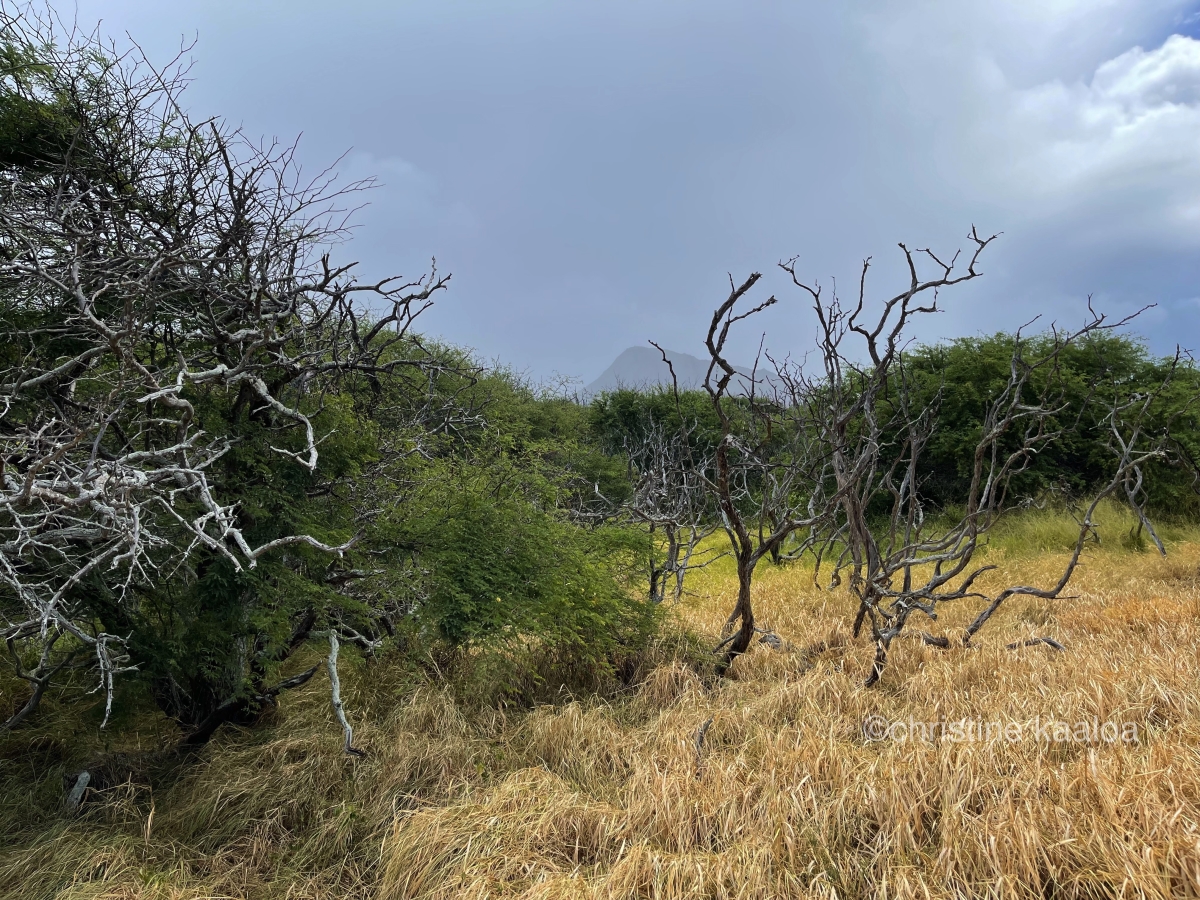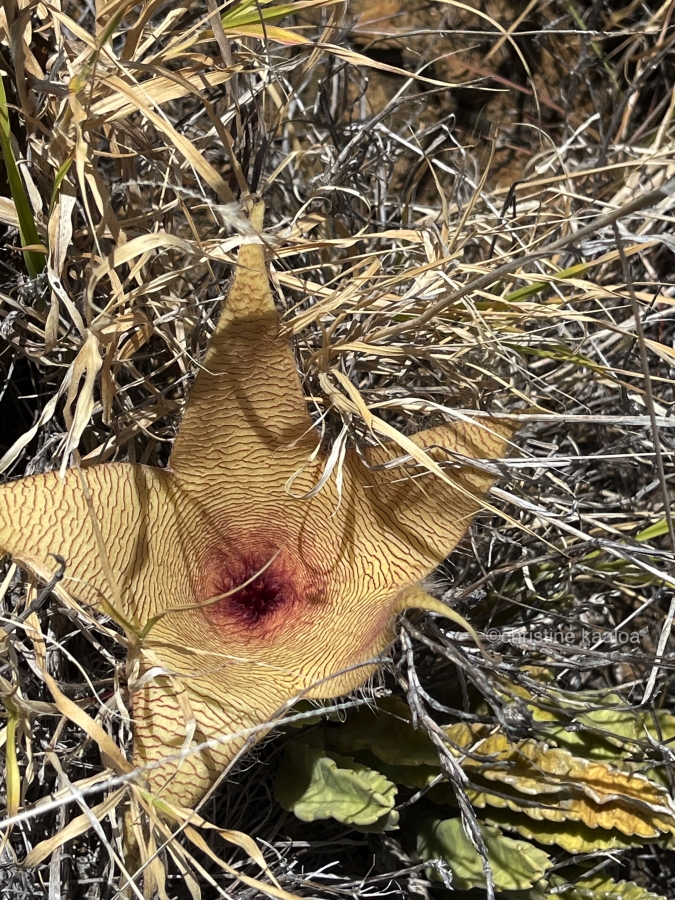 Things to Avoid at Hanauma Bay Trail
Avoid peak hours of 11am-2pm.
There is literally no shade and it gets hot. Especially during summer.  Recommended: Go early. I went at 8am although 7am is an ideal time to escape the heat. Take water; due to the inclines you will hike, you want to stay hydrated.
Avoid getting close to Hanauma Bay Rock Bridge
Heading towards the southern tip of the rim,  we tried to find Hanauma Bay Hike "Rock Bridge".  There have been deaths around Rock Bridge. Unfortunately, the Rock Bridge remained elusive to my sight. The currents in that area were strong and violently slapping against the rocks (I suspect Rock Bridge to be closer to that big black rock). I would avoid risking your life trying to get selfies and photos. There are much lovelier sights in Hawaii. A hole in a rock is not something to write home about and if you wanted a hole that's more impressive, I'd do the Koko Crater Arch Hike.
The view of the rocky terrain near the ocean is a gift though. It is as if ocean waves cut into the soft rock and eroded it, carving out cascades of "rock waves".
The rain started to come in from the seas and moved quickly. Completing the trail and making our way up the other slope to the electric tower, we got caught in rain. Luckily my sister brought rain ponchos for us to help lessen the drench.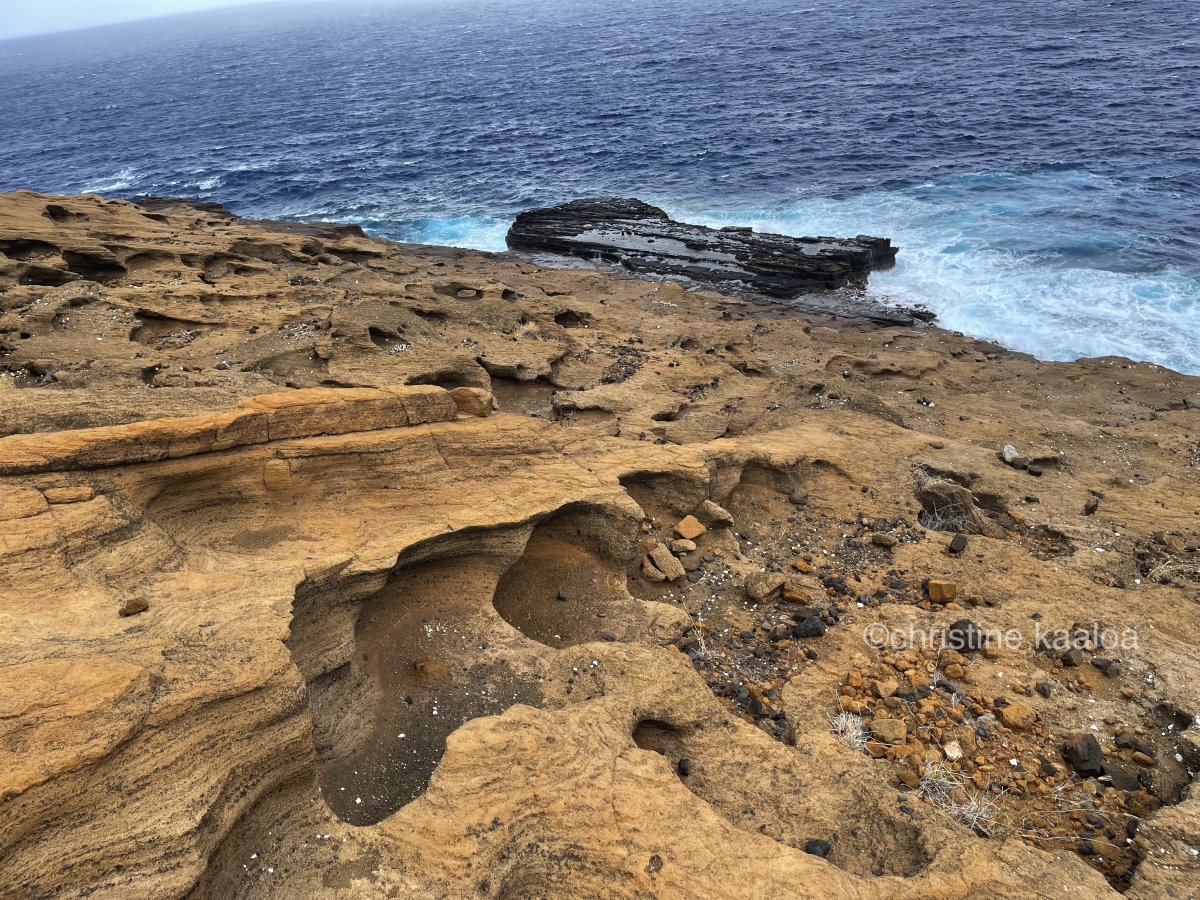 Conclusion: Hanauma Bay Rim Trail
The Hanauma Bay Rim Trail is a varied and mixed terrain trail with definite pay-off in lovely views. It's definitely a good one with scenery. I do not think physically challenged people would enjoy this trail as the inclining slopes present a workout with occasional footing challenge.  But I've seen families, couples and fit seniors here.
How to Get to Hanauma Bay Hike
Hanauma Bay Nature Preserve offers parking for $1 which is cheap! The parking lot is medium-sized but can get full by noon, so it's best to arrive early. See website. You can enter the start of the trail from the lot.
There are Waikiki hotel shuttles with Hanauma Bay on their drop off route as well.
Getting to Hanauma Bay hike by car is the most convenient. Park on Nawiliwili Street and walk toward the highway in the direction of Hanauma bay. In less than a quarter of a block on your right, you'll see a dirt entrance surrounded by tree shrubs and next to a concrete ravine. It is marked by a "No Trespassing "sign.  Take the dirt road up a short ways until you meet a paved road, where you'll start.
Hiking Essentials for Hanauma Bay Hike
There is no shade on this hike:
Reef Safe Sunscreen + Face Stick (I pack this in my daily bag)
Hat or sports cap
Portable Battery Pack for charging phone and devices
Hiking shoes or athletic shoes
cap with cap clip – there can be strong winds on this hike
hiking poles
Moisture-wicking shirt
A Reusable Water Bottle (Yeti Rambler 18 oz )
Backpack
A small bag for disposable trash
🤙🏾Save money on your trip and get the Go Oahu: All Inclusive Pass –  1-7 day discount book with 34 attractions