What are Hawaii's best beaches?
Surrounded by ocean, it stands to reason some of the most beautiful beaches are on Oahu. Here's 12 best beaches in Oahu, Hawaii and reasons you're gonna love them!
12 Best Beaches in Oahu, Hawaii
1. Kailua Beach Park
Kailua Beach Park is my favorite beach and you may see me jogging my dog here . Undoubtedly, it is one of the best beaches in Oahu, Hawaii for ocean sports, beautiful relaxed vibe and a lovely park. On the windward side of the island,  it is an ideal spot for water sport activities (outrigger paddling, kayaking, windsurfing and parasailing), families and on-leash dog walking.
Kailua Beach Activities :
Kailua Beach Adventures at Kailua Beach Center (130 Kailua Rd), about 8 minutes from the beach. Rent a kayak and paddle out to Rabbit Island.Kayaks rent for a half or full day for about $50-$60 .
Kalapawai Store (306 S Kalaheo Ave).  It is right before the beach- it looks like a green country beach store- they serve healthy sandwiches and picnic snacks.
Buzz's Steakhouse (413 Kawailoa Rd, Kailua)-  landmark beach restaurant serving anything from mahi burgers, cocktail drinks and hearty dining. Dog-friendly: Yes.
Parking: There are two parking lots and street parking. Go early during the weekends as street parking fills up with crowds going to Kailua Beach and Lanikai Beach.
Save money on your trip and get the Go Oahu: All Inclusive Pass –  1-7 day discount book with 34 attractions
2. Lanikai Beach
One of the stunningly best beaches in Hawaii is Lanikai Beach. It's known for its powdery white sands.  Set in the affluent neighborhood of Lanikai, there is no street parking. One needs to park in Kailua and either walk or bike in.
Note: Lanikai Beach is a stones throw from one of Hawaii's best hikes, Lanikai Pillbox where you can hike to a panoramic view of Lanikai Beach.
3. Ala Moana Beach Park
Ala Moana Beach Park and Magic Island Beach are the best Hawaii beaches for local families residing in town.  It is also where they hold the annual Lantern Lighting Memorial.
Ala Moana Beach is a half mile beach. Waves are generally mild. Waters are a little cloudy and the sands can get rocky towards the western entrance.. The parallel park is great for picnics, BBQ weekend gatherings and beach events on the island.
L&L Drive Inn beach concession where you can get local plate lunches, burger and fries. Dog-friendly: No.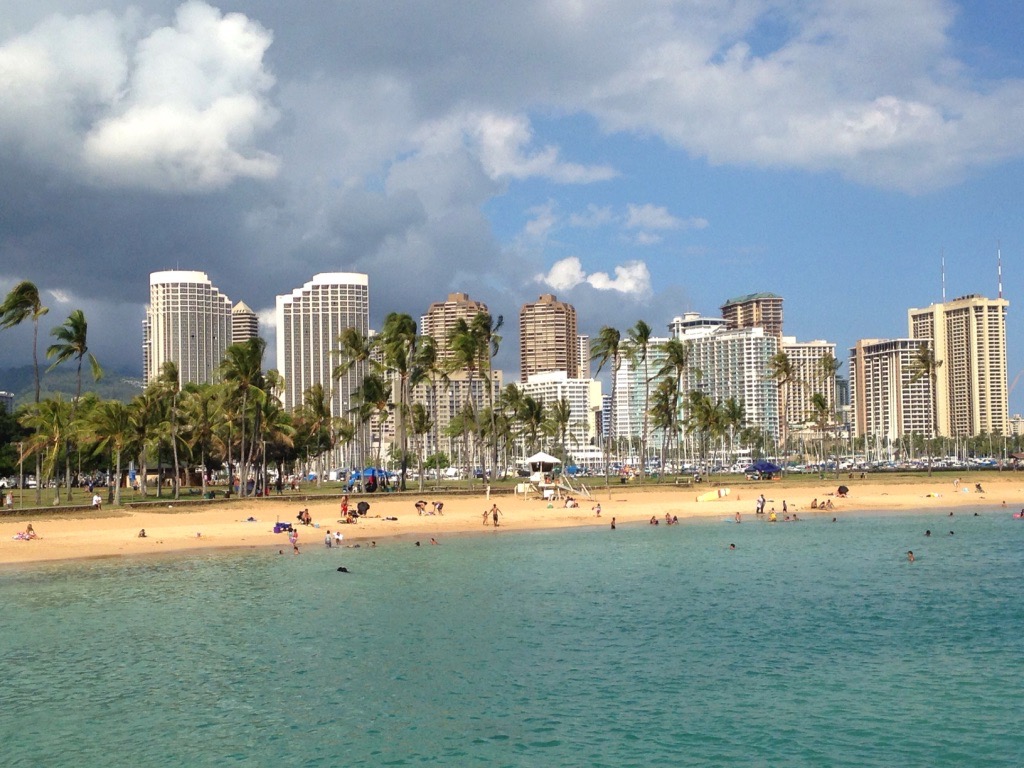 4. Magic Island Beach
Magic Island is a man-made beach with a protective stone wall to keep menacing waves out, making it an ideal beach for relaxed wading and children.  To get there, you'll walk through the large park, which is a favorite for picnic lovers and wedding photographers.
Dog-friendly: No.
5. Waikiki Beach
Waikiki Beach is the iconic beach Hawaii is known for, attracting over 4 million visitors a year. You can easily find it through the smell of coconut tanning lotion.  Spanning Queens Beach, the Duke Kahanamoku statue and the Illikai Hotel, the beach is convenient and popular with tourists staying in Waikiki. Sands can be a little gritty and the ocean bed might have tiny coral pebbles, but there have been many honu (turtle) sightings here.
Wet boots and floaties are optional. Dog-friendly: No.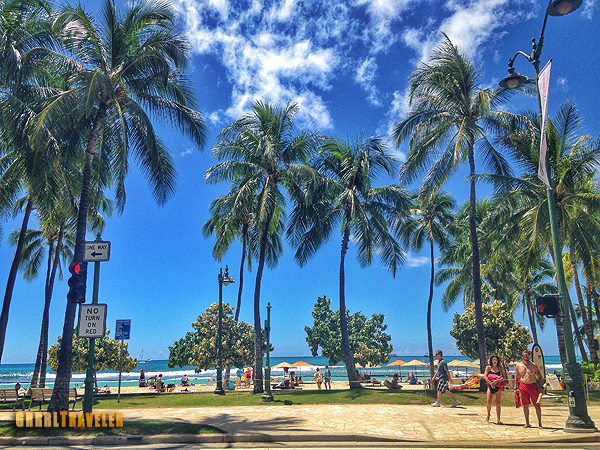 6. Royal Hawaiian Beach
Royal Hawaiian Beach is the central part of Waikiki Beach. It spans the Moana Surfrider to Royal Hawaiian Hotel. You can board sunset catamarans (aka "the booze cruise")  and listen to live music streaming from Duke's Restaurant. At night, it's a lovely beach to walk as it's lightly lit so you feel safe.
7. Waimea Bay
Waimea Bay Beach is  popular with locals and tourist for swimming and snorkeling. "Da Big Rock" as locals call it, is a 30 foot rock you can swim to, climb and jump off.
Best Hawaii Beaches and Dog-friendly: Yes.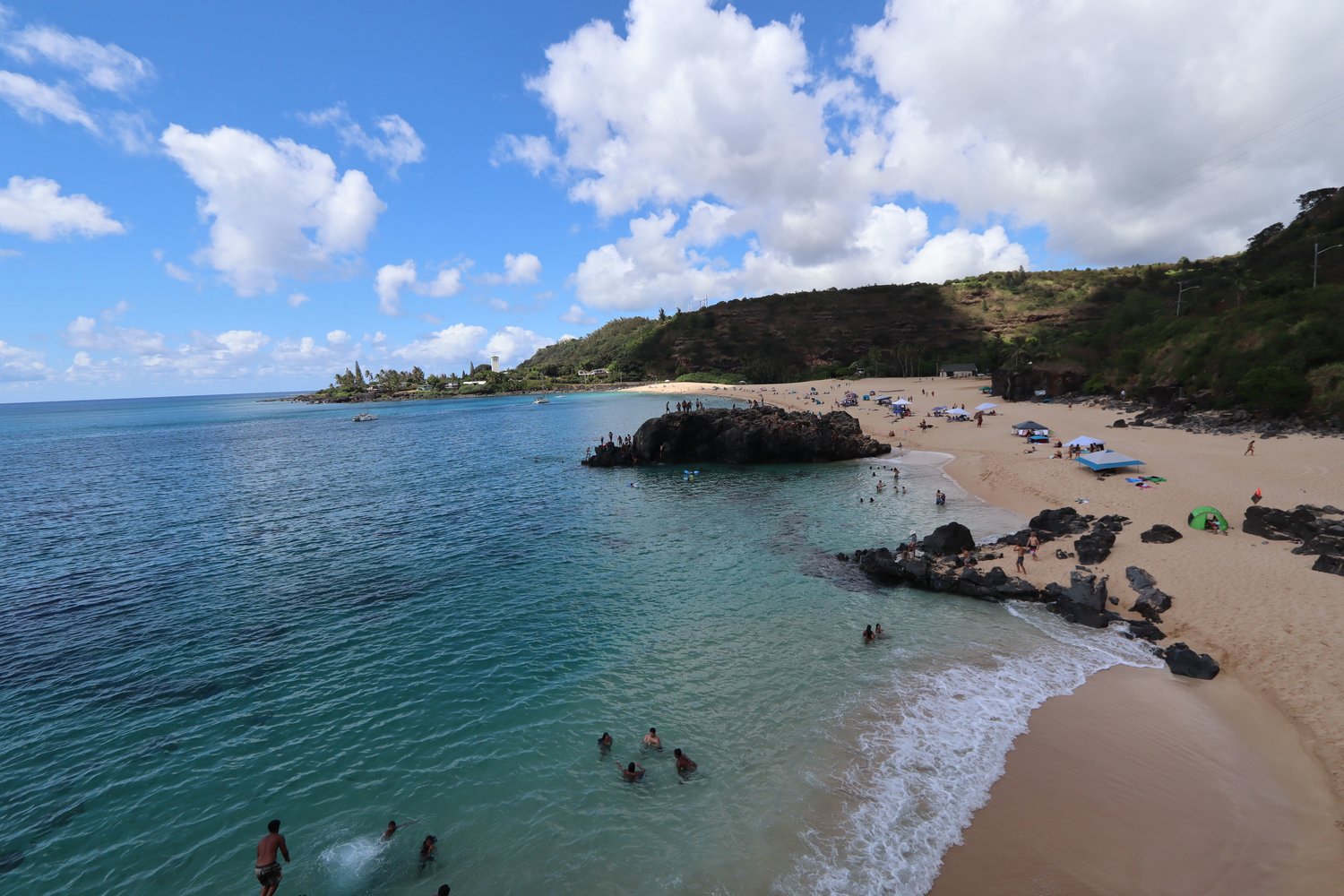 Watch Hawaii videos
8. Banzai Pipeline
Although Sunset Beach is pro surfing's home of the Triple Crown Surfing Contest , I find the Banzai Pipeline (located at Ehukai Beach Park), the loveliest to relax and watch the surfers catch waves at. The Banzai Pipeline is one of the best Hawaii beaches but it's also known as the one of the most dangerous beaches to surf. It's also one of the sandiest beaches on Oahu, with rolling sands both, deep and wide. Walking the beach feels like stepping into a soft and sinking pillow.
Dog-friendly: No.
Where to Stay: Turtle Bay Resort, Kahuku
9. Hanauma Bay Nature Reserve for snorkeling
Hanauma Bay Nature Reserve is a protected marine life preservation bay, housing a reef and marine life. It is a wonderful snorkeling spot. There is a nine minute educational video visitors are required to watch so they know how to protect the marine life and coral (you might see me in it; I'm in their PSA!) .
Compared to other snorkel spots around the island – Electric Beach, Waimea Bay and Shark's Cove- Hanauma Bay  sees a lot of tourists annually and there is a danger of overtourism affecting its reef and marine life.   Hours: Closed on Tuesdays.  Dog-friendly: No. Hanauma Bay hike is nearby.
🤙🏾NOTICE: Please use reef friendly sunscreen to protect the reef. Do not step on the reef; this is a precious ecosystem for the residents of the ocean.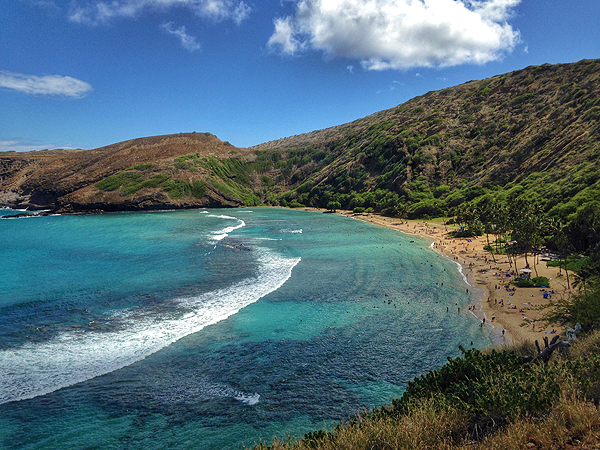 9.  Waimanalo Beach
Waimanalo Beach is a picturesque beach, wonderful for bodyboarding.. The beach stretches four miles. Waimanalo Beach Park has been a picnic and camping spot for local families and parties.
Dog-friendly: Yes.
10. Sandy Beach
Sandy Beach is not a particularly lovely beach and waves are too choppy for a peaceful swim and its sand has a tinge of red dirt,  but it doesn't stop a lot of boogie boarders and surfers from making this a popular spot.  Alongside the scenic Kalanianiole Highway, pass Blowhole and Eternity Beach, the seaside cliffs and mountains give Sandy Beach its complementary demeanor.
. Dog-friendly: Yes.
11. Halona Beach Cove: Here to Eternity Beach)
Between Halona Blowhole and Sandy Beach on the Eastern side of Oahu alongside a scenic Kalanianiole Highway, you'll find Halona Beach Cove (aka Eternity Beach), a small cove, where the 1952 film From Here to Eternity was filmed.  It's a small, lesser known beach which feels private, and the surrounding terrain of black volcanic rocks make it a stunning image
Halona Blowhole is nearby and worthwhile an exploration. The blowhole is not to be played with. The powerful geyser spouts ocean water through its hole and likewise can be a powerful suction,  evidenced by tourist deaths.
12. Ko Olina Beach: Peaceful man-made beach
Ko Olina Beach  is a man-made lagoon, making it wonderful for families and snorkling. Most beach goers are from the Ihilani Four Seasons Resorts and Disney Aulani Resort. Wind down with drinks and sustainable Hawaiian food by the MonkeyPod Kitchen in Koolina Center Mall.
Dog-friendly: No.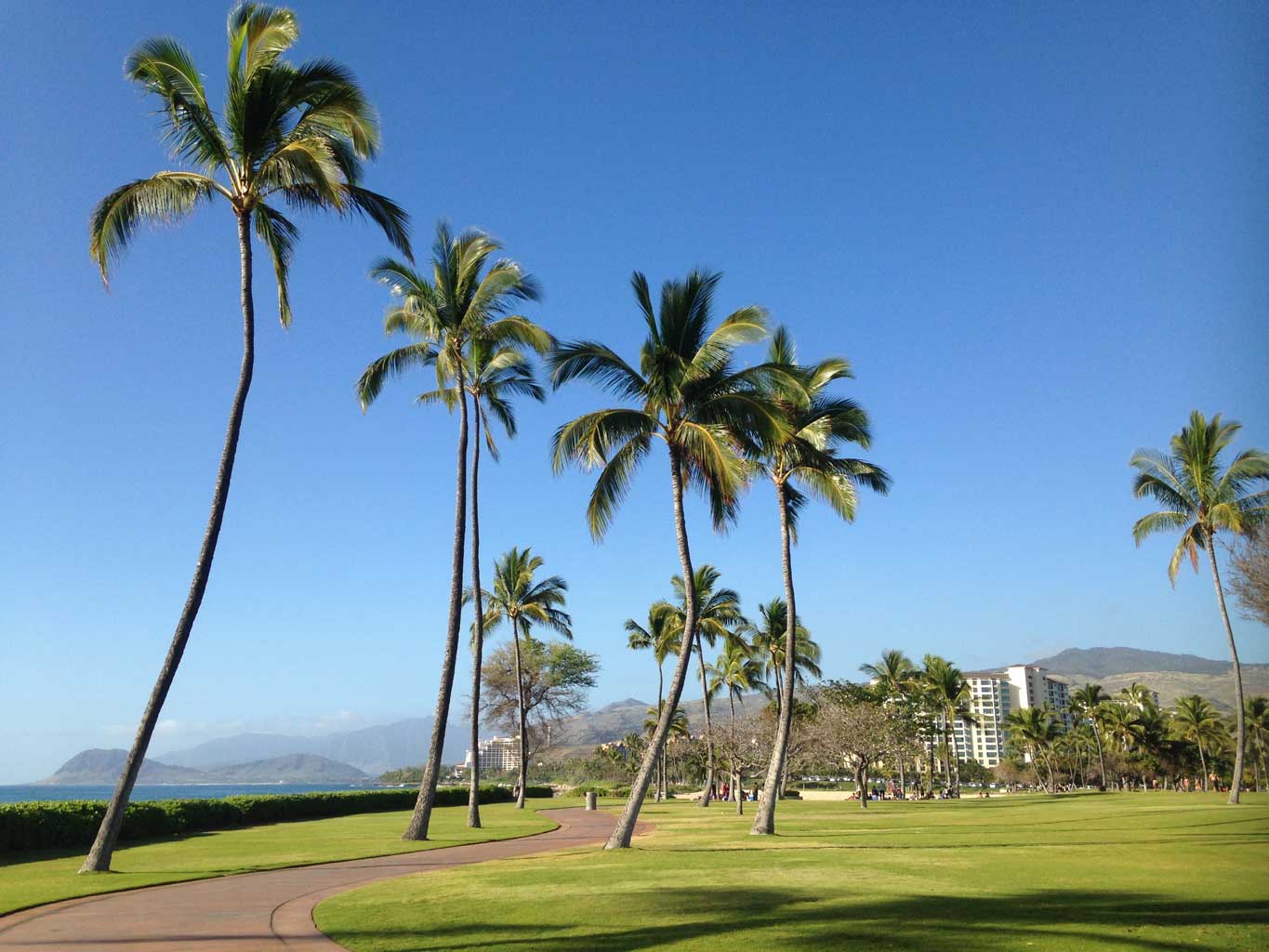 Getting Around Oahu, Hawaii
Getting around Oahu, Hawaii is not hard. You can circumnavigate Oahu in a day by car. To squeeze all its main highlights in, you'll need at least three days or longer.
There are always all-inclusive vacation package deals online or you can organize day tours, hop a Waikiki trolley (they make stops at some main attractions) or take TheBus. But if you want to explore more and have flexibility, it's best to rent a car (I recommend Hawaii Car Rental Discounts).
Best Oahu Hawaii Tours – Circle Experience
🤙🏾  Oahu Sights & Bites tour
🤙🏾  Circle Island Experience
What would you recommend as the Best Beaches in Oahu Hawaii?