Hiking in Hawaii is a dream to outdoor lovers around the world. It is one of things you can do for free which will take you to some of the most rewarding sights of the island. From waterfalls to mountain and ocean views, lush floral and fauna, it's easy to feel transported from the islands to a tropical rainforest.
Hiking in Hawaii : Essential Things to Know Before You Go!
1. Stick to well-worn paths
When hiking in Hawaii, safety is of the upmost importance. You are here for the best sights and the most popular hikes in Hawaii have well-worn paths, so you never lose your sense of direction. From time to time you might be on a trail gets vague and confusing. Turn back and look for the well-worn path. If you see colored markers, it is likely a hunting trail.
2. Hawaii hiking trails can be muddy
Hiking Hawaii trails after a rain can be terribly challenging, due to mud. On narrow ridge trails or rocky inland slopes, mud can make trails slippery and dangerous. Some hikes can be muddy in general due to their damp location, like Lulumahu Falls hike.  There have been missing people and deaths on Hawaii hiking trails, so it is best to avoid navigating this type of terrain.
Tip: Take a plastic bag or your hotel laundry bag for muddy shoes
3. Start out early
It's always best to hit Hawaii hiking trails early in the morning. There are many benefits of it from beating the crowd to avoiding the sun and heat. In the afternoon, trails overall can be more humid. Some hiking trails are like rainforests due to its dense foliage, while others may not have any overhead shade.
4. Always bring mosquito repellent and sunscreen
For the most part, Hawaii can feel tame next to other destinations in the U.S.  We don't have bears or deer ticks to beware of. But we have mosquitoes and the heat. Are trails are not a snack fest for mosquitoes but you will find them near running and standing water or in off-the-beaten-path parts. You do not have to worry about mosquitoes carrying viruses like dengue fever, so whether you're using a DEET repellent or natural oils, you should be okay.
Sunscreen is also imperative if you're concerned about skin cancer, because you can get UV rays even in shade.  Sometimes I like to wear a long-sleeve dry fit shirt with moisture wicking.
Save money on your trip and get the Go Oahu: All Inclusive Pass –  1-7 day discount book with 34 attractions
5. The best time to visit a waterfall is after it rains.
To contradict my last tip, if you are here to chase waterfalls for Instagram, then waterfalls are fullest after a rain.
You will have to contend with muddy paths so be safe. Otherwise, waterfalls may look like a trickling stream such as below.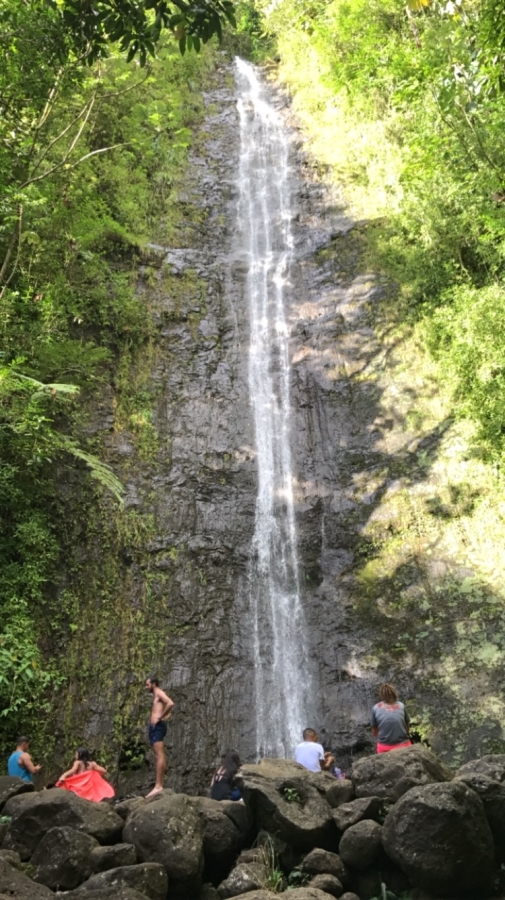 6. Be careful when swimming in waterfalls
Cases of Leptospirosis in Hawaii is common around freshwater streams, watering holes and waterfalls. Leptospirosis is contracted when you are swimming in water that has been contaminated by animal urine. Animals which contract it are cattle, pigs, horses, dogs, and wild animals such as boars, rodents, mongoose, and sea mammals. Hawaii hiking trails can house those wild animals. Leptospirosis enters through broken skin or through other orifices such as eyes, nose, mouth. It is not transmitted person to person. You will start to see signs in 7-14 days and symptoms can be mild to extreme such as acute liver and kidney failure. Here's common symptoms of leptospirosis.
7. Respect wildlife on Hawaii hikes
Hiking in Hawaii, you may witness wild boar, chickens, exotic birds and if you are hiking along the coast, you may see Hawaii green sea turtles, monk seals and on occasion, whales. (I have seen them off Makapuu Point Lighthouse Hike during whale watching season!)
Warning: Hawaiian Green Sea Turtles and Monk Seals are protected endangered species. Harassing or endangering either of these is a federal and state crime punishable up to $50,000 and prison time. Read more.
Hunting is allowed in some areas to help with population control, so beware of signs and areas you may see colored hunting ribbons.
8. Do not feed or touch the wildlife.
Human interaction causes stress to wildlife and it can upset anything from their eating habits to their ecosystem… it can also make them easy prey. Feeding wild boar is one example I see often at Aiea Loop Trail and it domesticates them,  making them trust humans and this makes them easy prey for hunters who seek them.
9. Never leave valuables in the car.
Hawaiian Island are relatively safe in comparison to the rest of the U.S. It is low in crime regarding personal safety. However, is that an expensive looking purse in your back seat? … theft and car break-ins are two of the most common crime in Hawaii. Do not leave valuables in the car and if you do, cover them or put them in a covered trunk.
10. Heed warning signs
When Hawaii state puts up warning signs around a hiking trail or natural attraction, it is to protect your safety. Whether it is falling rocks, dangerous geysers, hazardous cliffs, it is all for your safety and protection. As I stated earlier, there have been deaths and incidents where hikers have gone missing, due to having fallen off a trail and not getting medical attention or entering a place they should not have been.
11. Illegal trails are at your own risk
There are many well-known illegal hiking trails in Hawaii. Some are illegal because they trespass on private property , government property or are in a bad state of repair, making it dangerous. If you hike an illegal trail you go at your own risk. In the case of the popular "Staircase to Heaven" hike, there is a $1,000 fine if you are caught.
Tip: Let friends or a local know you'll be hiking the trail, so if you need medical assistance someone can find you.
12. Be respectful of the local residents when parking in neighborhoods
Residential areas are not your dumping or waste disposal grounds. If there's a reason for locals to not like foreigners to the islands, this would be one of it, so don't ruin it for others1 Be respectful and use common sense. Do not pee in a bush near someone's yard. Residents of one popular hiking trail were upset when found this occurring. That's just disgusting and plain uncouth. The state has temporarily banned entry through that neighborhood.
13. Do not touch or harass sea mammals
Seeing seals and turtles up close may be exciting. But this not a petting zoo nor should it be your next TikTok challenge.  Sea turtles are protected by the state and you will incur a $1,500 for harassing a sea turtle . Human interaction causes them stress and anxiety and it can upset anything from their eating habits to their ecosystem. Locals can also be quite protective about this- don't be surprised if someone calls the police on you or says something to you.
14. Dispose of your waste properly
Official trails have trash bins, while illegal or local ones don't. Take a package for your trash and dispose of it at your hotel.
15. Take a map of the hiking trail or download Maps.me
Hawaii Hikes Packing List
Hiking in Hawaii~ what tips would you recommend?