The Lanikai Pillbox was built in 1943 and is a 3.2 mile hike, which can be quick and easy depending upon your health. It easily wins hands down as having one of the most beautiful views for the least amount of work.
What is a Hawaii pillbox hike?
Pillboxes are small military observation stations built during World War II; they used to be armed with weaponry. The stations range around 6-10 feet in width. Hawaii has a four main pillbox hikes with incredible views – Lanikai Pillbox hike, Pink pillbox hike, Ehukai pillbox trail and Diamond Head Crater hike.
The Lanikai Pillbox trail has two pillboxes,  built in 1943.
Where is the entrance of the Lanikai Pillbox hike?
The starting point of the Lanikai Pillbox Hike is easy to find. It is close to the entrance into Lanikai town and does not have a street sign but it branches off of Ka'elepupu Drive. You cannot miss it as it is opposite from the Mid-Pacific Golf Course.
The first leg of the hike is the entrance hike where the slope is semi steep and comprises of loose and compacted dirt and small rocks. There is a rope and trees you can pull yourself up with.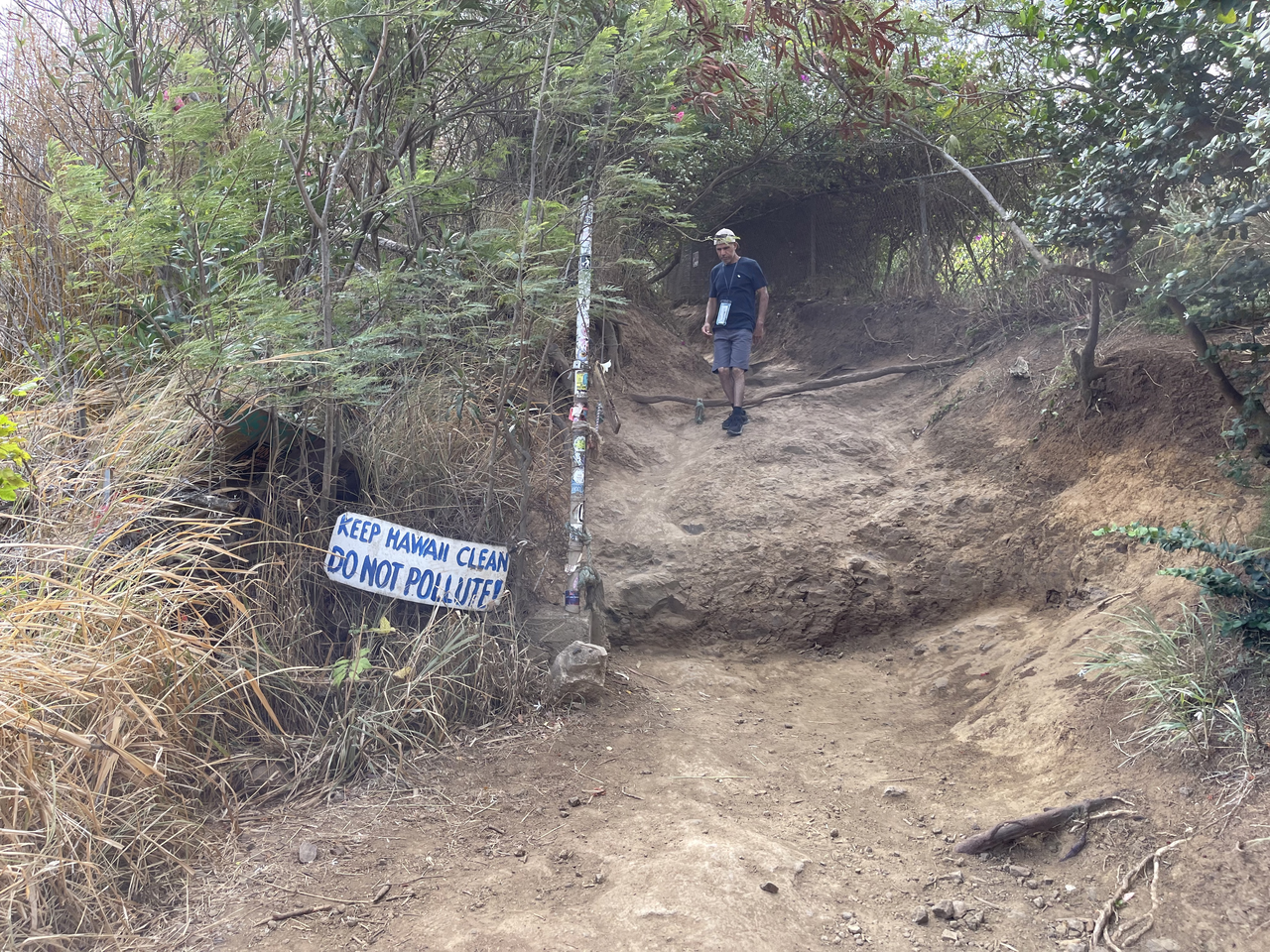 Is Lanikai Pillbox Hike dangerous for dogs?
The Lanikai Pillbox Hike can be dangerous for dogs. Although some sites list it as dog-friendly, that merely means dogs are allowed. However there is a warning sign at the entrance of the hike stating that dogs have died of heat exhaustion whilst on that trail. Heat exhaustion is nothing to treat lightly. There are many trails where dogs can experience heat exhaustion and its when the owner is negligent in monitoring their pet's limitations, do not bring water and hike in the worst time of day with horrible conditions. You do not want your dog to go into shock on this trail as you will be far from any water or your car.
The dangerous aspect of Lanikai Pillbox Hike is that it can feels very windy and breezy… for a human.  Dogs are close to the ground, there is no shade and the ground emits heat. It can get quite hot for a dog, while being breezy for a human.
Tinker is diabetic, so I'm hyperaware and monitor her often. I also avoided noon and went early morning. By 11am it was hot. I brought Tinker's water dispenser bottle and a few bottles of water – to hydrate and cool her down. I also took a dog cooling towel to keep her from overheating and paced our hike so she had full rest intervals to cool down and just pant. I got really nervous …so I even carried her for stretches!
If you have a long-haired dog,  avoid the hike. I've seen a dog owner push his dog naively up the hill past the first lookout, unaware this dog heavily panting with his full tongue hanging out of his mouth like it about to pass out. The owner was not carrying water for his dog and I had a bad feeling about it, so I ran and gave him my extra water bottle.  Please research and pay attention to your dog's condition.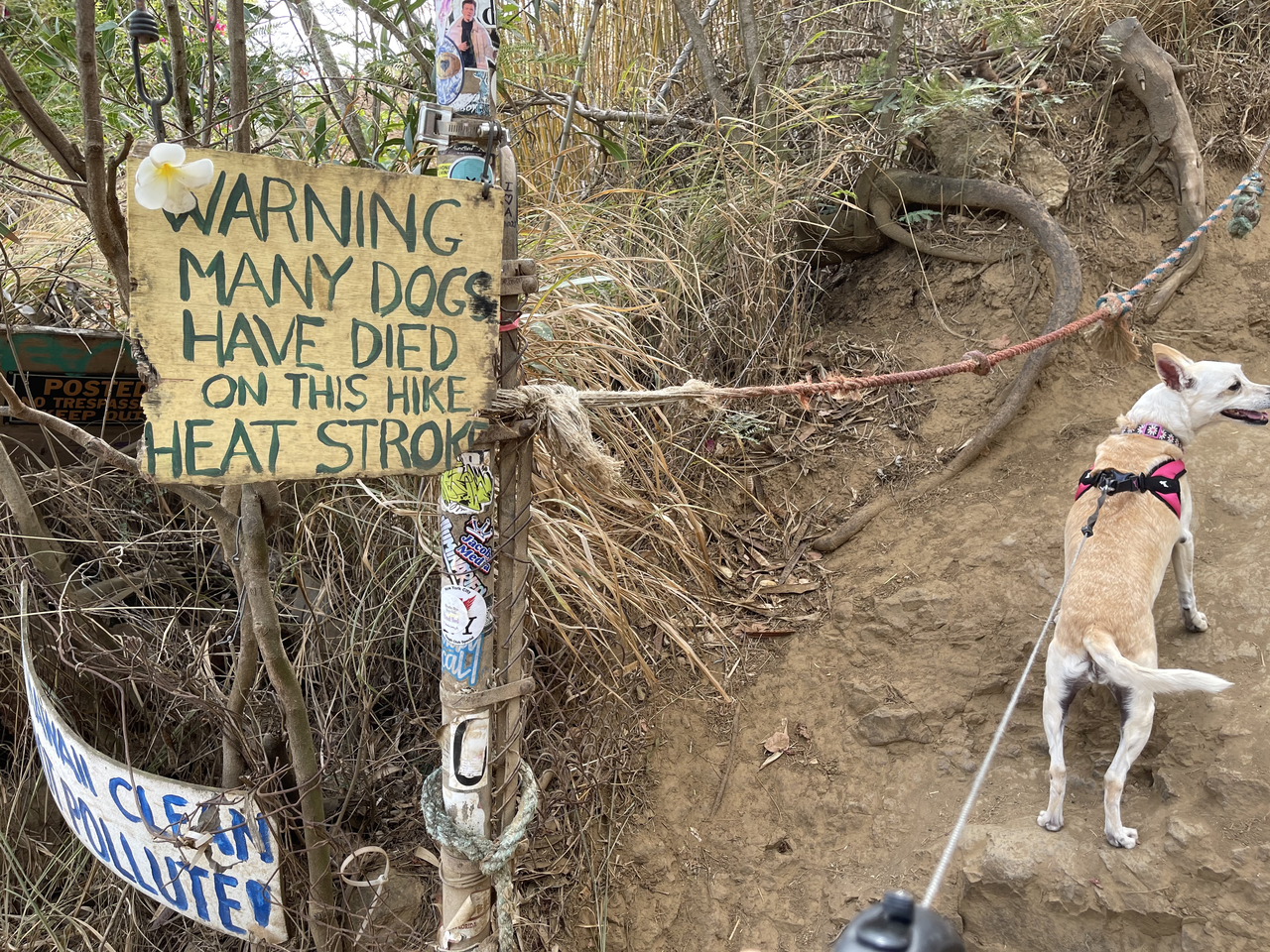 Lanikai Pillbox Trail : The view of Lanikai town to Kailua
Lanikai Pillbox HIke has one of the best views of Oahu with charming views of Lanikai town and beach, lush Kailua and "the Mokes"(aka the two Mokuleia Islands). The view is a lush but beachy grid accented with nice oceanic hues of aquamarine and blue.
Is Lanikai Pillbox Hike a hard hike?
The Lanikai Pillbox trail is an easy to moderate trail hike depending upon your goal.
The first incredible lookout spot is super easy to get reach. It is literally at the end of your entrance climb. Not even five minutes!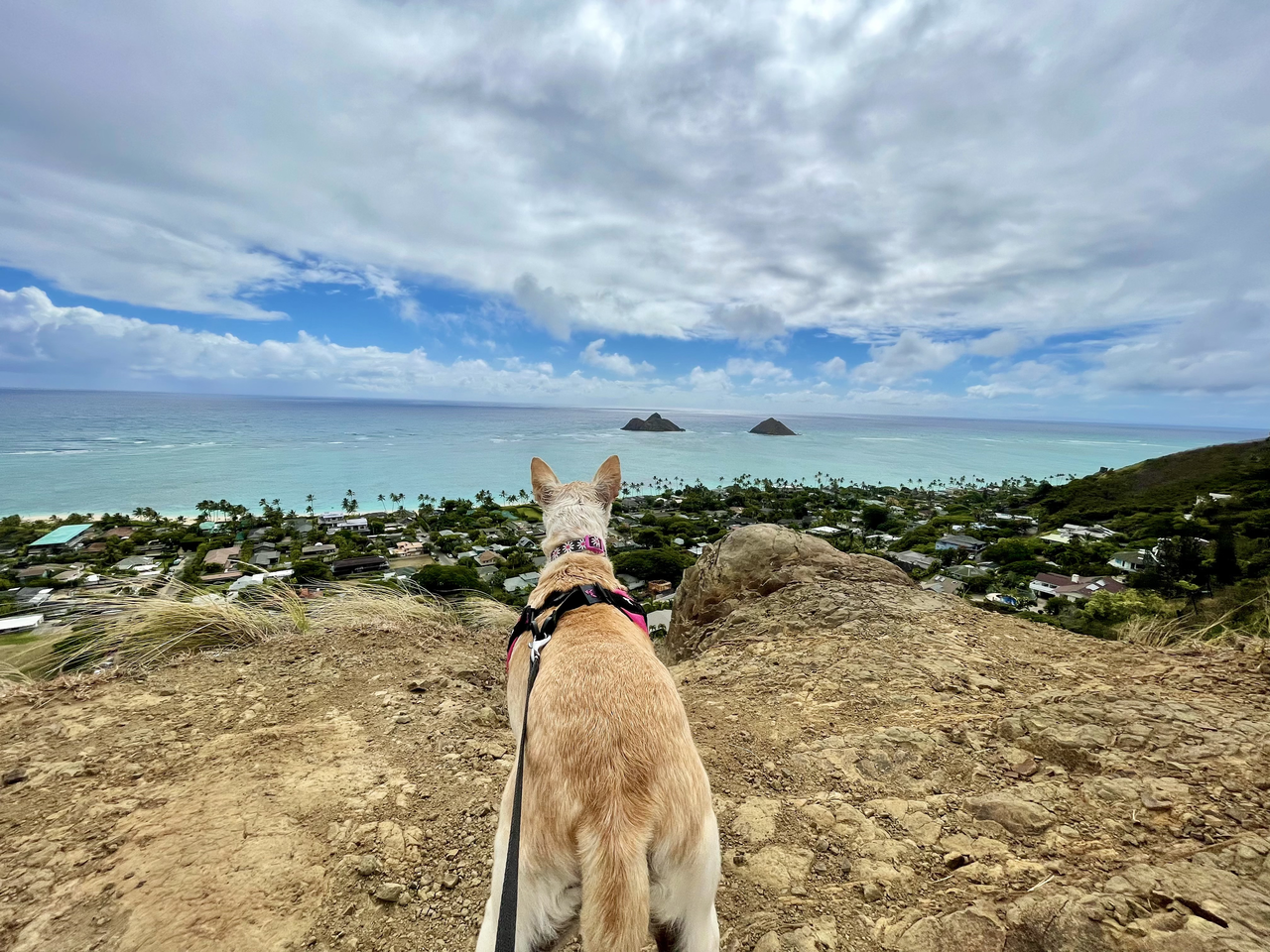 View of Lanikai | First lookout view
If your goal is to reach the two pillboxes, then it is an easy to moderate hike.  There are some pretty steep slopes with small rocks and loose dirt, but little vegetation to pull yourself up. It's easy to slide and fall. I've seen this happen a couple times and almost fell myself.
Tip: Avoid going after a big rain as the mud will not be in your favor.
But after that steep slope, it gets better. The path connecting the two pillboxes is relatively easy as it's a fairly worn and easy walking path.  At this point, the views feel about the same.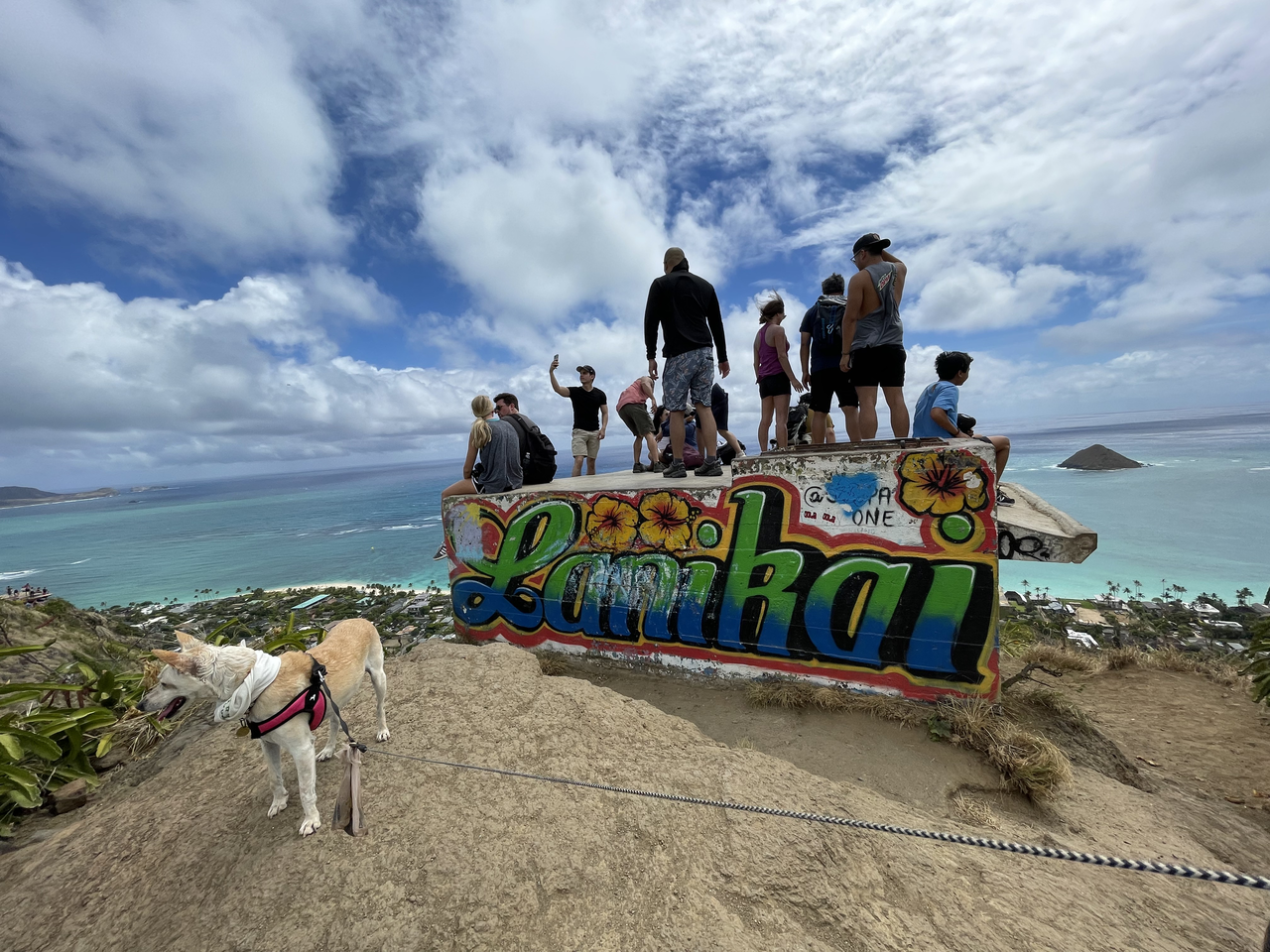 Lanikai Pillbox Trail Parking
Lanikai has limited parking and that is always one of the challenges of this hike or visiting Lanikai beach. As an affluent district on Oahu, local residents are very touchy about people parking in front of their houses or crowding the streets. You may find some street parking, but the later you come you may find more challenges in finding any openings.
Kailua Beach Park parking lots are the second option. It gets crowded during the weekends so weekdays are your best bet to nab a stall.
Lastly, you may find signs in front of residential homes selling parking space on their property. They are legit and a god-send when there is absolutely no parking.
Essential Tips for Hiking Lanikai Pillbox Trail
Best time to hike Lanikai Pillbox trail is early morning before the crowds or in the afternoon towards sunset.
Check weather reports to see if it rained the night before. Rain produces a slippery and muddy trail.
Wear reef-safe sunscreen. There is no shade on this trail. (Check out my reef-friendly sunscreen guide)
Bring an SPF hat or cap.
Bring a flask of water to hydrate
Pack a beach towel. It is ideal to hit the beach afterward and jump in the ocean for a swim.
Wear shoes. There are parts of the hike with loose dirt and rocks.
Always heed any 'No Parking' signage and please always respect the residential properties.
Always take your trash with you both, on the trail and where ever you go. Find a trash bin to dispose of your trash.
Conclusion
Overall, the Lanikai Pillbox Hike is worthwhile if you're looking for a relatively quick hike with a great payoff in a view. It can take you anywhere from 45 minutes to 2 hours depending upon photo and rest stops.  The Lanikai Pillbox view is one of the best lookout views on the island and not to be missed.