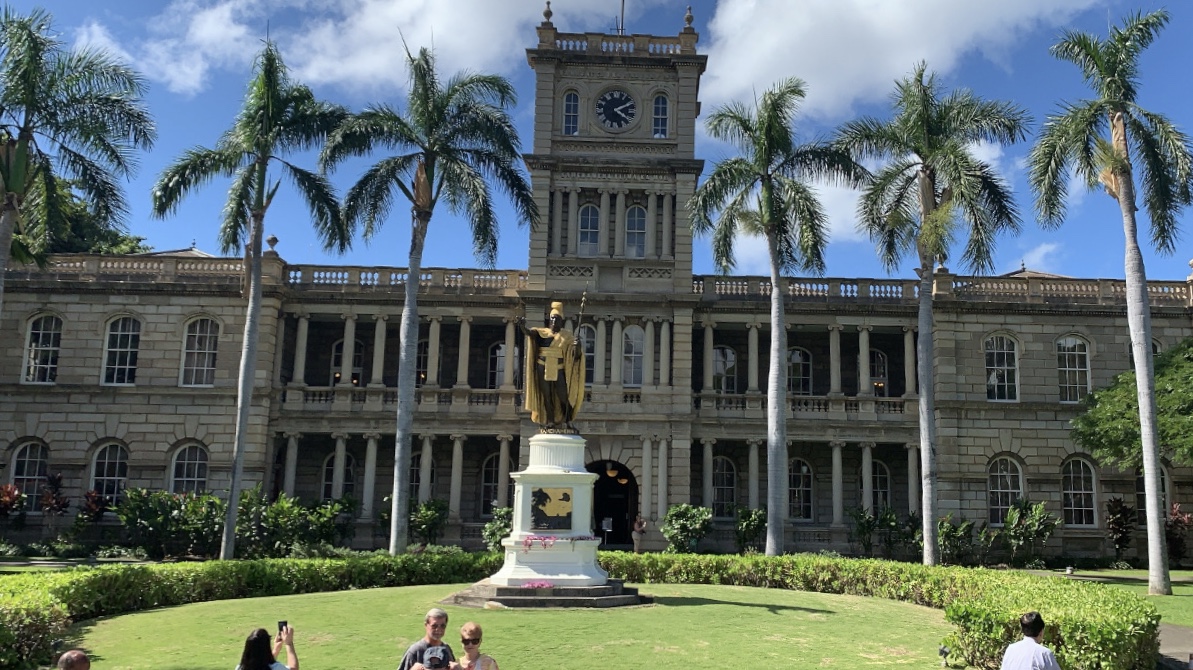 When traveling Oahu, you might cross paths with famous landmark statues of Hawaii and not even know they are well-known to our islands. These statues are cornerstones of our Hawaiian history and culture, which Hawaii people are proud.
Three famous landmark statues of Hawaii (you don't want to Miss)
1. King Kamehameha
If you've ever watched an episode of Hawaii Five O you'll recognize the landmark statue of King Kamehameha. King Kamehameha is the most famous king in the Hawaiian Islands. A fierce warrior with diplomatic ways and adoption of western ways helped him unify the Hawaiian Islands under one kingdom in 1810.
When visiting Iolani Palace, don't forget to look across the street. Our most famous statue of King Kamehameha sits across Iolani Palace in front of Aliiolani Hale.
2. Duke Kahanamoku
The Duke Kahanamoku statue stand in front of Waikiki beach with outstretched arms welcoming visitors with Aloha. Duke Kahanamoku is Hawaii's famed five time Olympic swimmer who popularized surfing. He was one of the original Beach Boys, a gang of surfers who taught surfing to tourists in Waikiki. The Waikiki Beach Boys continue to roam Waikiki Beach offering surfing lessons- catch a surfing lesson from one of them! Tip: traditional draping leis on his arms are to avoided as it adds wear and tear to the statue's preservation.
Duke's statue faces Kalakaua Avenue fronting Waikiki Beach next to the Waikiki Police Station.
3. Father Damien
Passing by the Hawaii State Capitol in downtown Honolulu, you cannot miss the statue of Father Damien below the giant civil coin. Standing guard at the entrance of the capital, his dark blockish figure is a reminder to us to care for all peoples including the ill of health and unfortunate. Father Damien was a Begium priest who came to Molokai in 1873. He went to work at the Leprosy Settlement in Kalaupapa,  an isolated territory of Molokai.  He cared for the people there who were segregated for Hansen's disease and eventually succumbed to the disease in 1889.
His statue is located in the front of  State Capitol in Downtown Honolulu.
What famous landmark statues of Hawaii would you add to this list?